Bluehost which is considered as one of the reliable webhosting for WordPress has gone to complete outage today. This outage was a result of a security patch update by Bluehost Security team.
Bluehost Client's are assuming that Bluehost server are hacked but Bluehost twitter client confirmed that this outage is result of :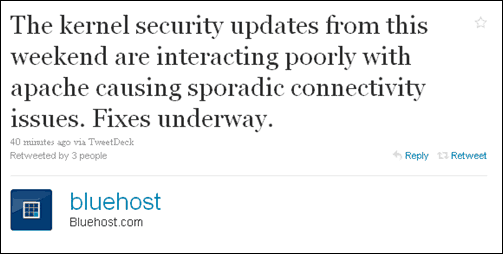 The kernel security updates from this weekend are interacting poorly with apache causing sporadic connectivity issues. Fixes underway.
The worst thing which can happen to Bluehost clients are due to huge volume of complaints, facebook live chat and live phone support are constantly busy. Though Bluehost Team are trying to announce it via different platform using Twitter.
This is second major outage this week and many Bluehost customers are looking forward to move to some other hosting.
Alternate best Hosting after after Bluehost Downtime?
Technically Bluehost is a good hosting and we have already compared them earlier on our post Bluehost Vs Hostgator Vs Dreamhost. Though if this outage is making you insane, you should switch to Hostgator.
Hostgator offer free migration, so your blog will be migrated by Hostgator team from your Bluehost server and you don't need to deal with any technical hassle. You can read Hostgator review here and get Hostgator Discount coupon.
Do share your comment about Bluehost down time today?