Its good news for all commercial, cooperates and more such kind of companies. Recently .CO Internet S.A.S launched ".Co" domain in a "landrush event". According to Juan Diego Calle, CEO of .CO internet:
"Today's launch of the .CO domain represents the next phase in the growth and development of the Internet. The .CO domain will create new opportunities in global commerce, content development, social media and other forms of interactivity, which will enrich the overall Internet experience for everyone."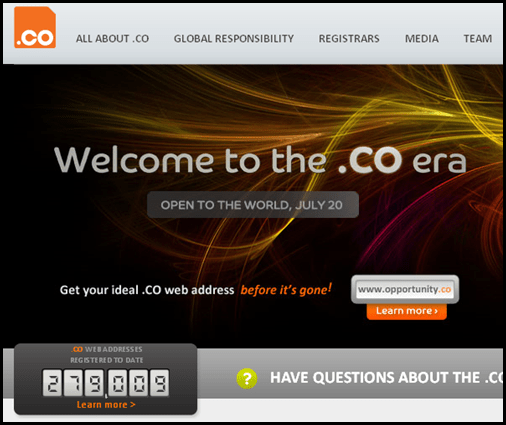 And now many popular domain registration companies like Go Daddy, Registrar.com, Network Solutions etc started promoting ".Co" domain. And many business and internet companies already applied for the domain in its pre-launched phase (Feb 2010). Few big brands that showed interest in .CO domains are Amazon, Apple, American Express, BMW, Canon, CNN, Google, EBay, Coco-Cola, Honda, IBM, Kodak, Sony, Samsung, McDonalds, Microsoft, Nokia, Panasonic and many more.
One of the earliest lovers of .Co domain is Twitter, it took the t.co domain. Another one is Overstock, it paid $350,000 USD to get "O.CO" domain. There are more than 279,000 .CO domain names already registered.
The price of .CO domain starts from $20 and varies with different domain registration companies. Many Twitter users are started selling, buying and promoting .CO domains. .CO domain already seems to be a hit, let's see how things go ahead.
Meanwhile, don't forget to share your views about .CO domain.
You can buy .co domain names from Godaddy.