We all know that Dedicated servers are best when we considering a Webhosting for serious business. Though dedicated hosting are not as cheap as VPS or shared hosting. Here is a good news for all those who are looking forward to grab a Dedicated hosting for cheap price.
Dreamhost which is one of the recommended WordPress webhost, started offering dedicated servers for their client. The best part is their cheapest dedicated hosting plan will cost only $99/month, which is certainly not the cheapest but existing dreamhost customers will find it useful, as they can easily upgrade from existing shared hosting or VPS plan with one click and Dreamhost support will take care of rest of need.
Dreamhost Dedicated server price:
Dreamhost offers various dedicated server packages and the first one starts with, New moon 2 which cost $99/month and offers 2GB ram and 500GB HD space. For high end users, you can start with Blue moon 4, which is resource ful and offers RAID support.
Here is a price chart of Dreamhost dedicated server along with resources: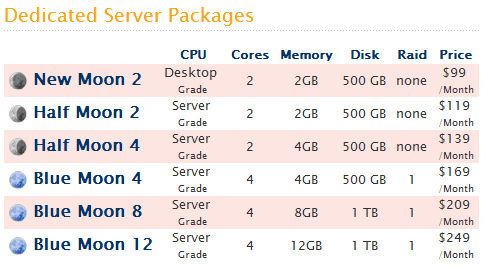 Here are some significant features of Dreamhost Dedicated hosting:
Unlimited bandwidth:
Dreamhost offers unlimited bandwidth with their Dedicated hosting. So this is one big advantage and something Dreamhost can boast about their dedicated hosting. Most of Dedicated hosting I know of, they charge for bandwidth and if your requirement is high bandwidth, Dreamhost dedicated servers will be the best bet.
Automated backup:
No matter on what ever hosting you are in, backup is one mandatory thing. Dreamhost will take automated backup of your hosting account and more over backup will not count in your disk quota. Apart from 2 significant features, you can also expect same 99.99% uptime along with 24*7 customer support.
They offer Debian Linux OS along with Root/SSh/Sftp access. The pros of their dedicated server is, you can always use live chat support from DH panel and their support is quick when it comes to VPS or dedicated hosting.
Since dedicated hosting is coming from Dreamhost which is already famous for it's shared hosting and managed VPS. It will be good to see how price of Hostgator Dedicated hosting will drop, with the introduction of Dreamhost dedicated hosting.
Check out Dreamhost Dedicated hosting
Dreamhost dedicated server discount coupon is not available at this moment. Don't forget to subscribe to Email newsletter to grab the dreamhost dedicated server discount coupon as soon as it's available.