Dremahost is one of the well-known webhosting company, and popular for WordPress, Drupal shared hosting, and their fully managed VPS and dedicated server. I had a good experience with their shared hosting, and one of my fashion blog client is hosted on their dedicated server, and so far reviews are amazing. Today, I will be talking about Dreamhost affiliate program, which is a good way to make money by referring your friends to Dreamhost hosting.
Detailed information about Dreamhost affiliate program:
Dreamhost affiliate program is open for existing and non-existing customers. Anyone can sign up for their affiliate program and start making money. Though, as I keep mentioning, it's a good idea to refer a product to someone, only after using it. Dreamhost shared hosting cost around $119/year and a customer can get maximum possible discount of $97. As an affiliate, you can create unlimited discount coupon code ranging from 0$-97$ for your readers and friends.
You can also let your readers sign-up for their hosting account without any discounted coupon, and that ways you will earn $97/sale. But, a good idea is to offer a minimum discount of $50, and earn $47/sale. Dreamhost have a discount limitation for 3rd world countries like India, Pakistan and few other Asian and African countries. Users from India, Pakistan and other Asian countries can only get maximum possible discount of $50. Where as users from U.S., Australia, Canada and other countries can get maximum possible discount of $97.
For example, I have created two coupons :
Here is a screenshot of my DH affiliate panel, which will give you an idea about conversion and Payout till the date: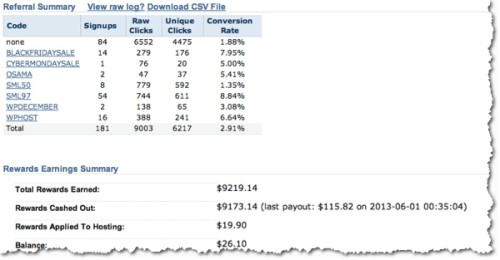 Once you have made the first 5 referrals, you will become a Platinum rewards member. That means, you will be able to cash out your rewards money every month end. You can get paid via PayPal or Check. Along with normal Affiliate payout, they have an additional bounty for affiliates who are giving more sales to them.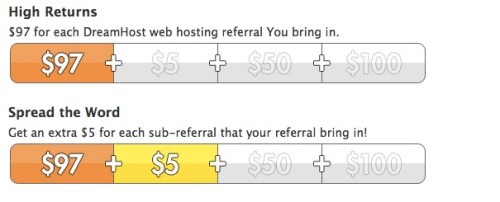 Also, DH affiliate program is a 2-tier affiliate program, so you end up earning more via sub-affiliate who signed up using your affiliate link. Promoting their hosting is very easy with the help of Promo codes, banners or via blog posts. Also, dreamhost is one of the budget hosting which offers 1 free domain, single click Google apps integration, free Adwords coupon and cutting edge technology for offering a reliable hosting for your website.
Over all, I have been an affiliate with Dreamhost for almost 4 years now, and so far they are one of the best hosting affiliate program I have used. It was just one time that I had to ask them to re-issue a check, and apart from that their self serving affiliate dashboard will ensure that you will get everything you need. Here is a video (Without audio), which shows how you can generate Dreamhost promo code for your readers or your friends.
You can sign up for Dreamhost affiliate program here. If you still have any additional questions regarding their affiliate program, feel free to ask me via comments.