Godaddy which is one of the largest domain registrar and some how not so famous with their hosting launched 4th generation hosting and claiming it to be better than it's rivalry Hostgator hosting.
Though Godaddy webhosting always failed to amuse me but the sales pitch of Godaddy 4G webhosting is quite tempting and deserves a post.
According to Godaddy 4th generation sales page it's better than any other hosting in following manner:
Dynamic Server management:
With the Godaddy multi-service environment and real time performance management your site will grow dynamically.
Dynamic traffic management:
This is something which will tempt those who occasionally get traffic spikes. Load balancing and auto adjusting bandwidth feature will ensure that your site will never go down.
Enhanced security:
In the past Godaddy was big time target of Hackers and many WordPress blog which was hosted on Godaddy was hacked. Godaddy claims that with new technology they have hardened their security and those who are paranoid about their blog and site security can rest peacefully and leave all security measures to them.
Along with above features, to target more customers, Godaddy are offering following three premium features for free, for those who sign up with their unlimited hosting plan.
Premium DNS
SSL Certificate
Website protection site scanner
Godaddy 4G pricing:
Godaddy is offering their 4th generation Hosting at very competitive price: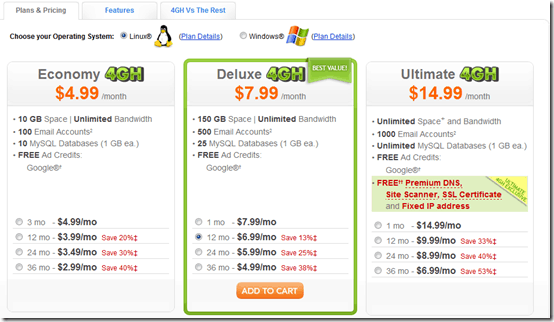 Being one of the reputed brand, I think it's going to give a stiff competition to other shared hosting companies.
If you have used Godaddy 4G hosting, do let us know your review and opinion for the same.