We have not created any list for popular Indian Webhosting but if we do, Hostgator India will make into the list for sure. Incase you not aware of, Hostgator is one popular shared hosting site and couple of months back they opened a data centre in India and a dedicated site for Indian customers.
Hostgator India is offering special one time 25% discount coupon for Indian webmasters and this discount is valid on your total bill. You can purchase any webhosting plan of Hostgator India, and this coupon will be valid for that plan. (Freedom64).
If you are new to Hostgator, you might like to read: Hostgator review.
I applied this coupon code (FREEDOM64) and I got this discount (Image below) on my baby plan for 1 year.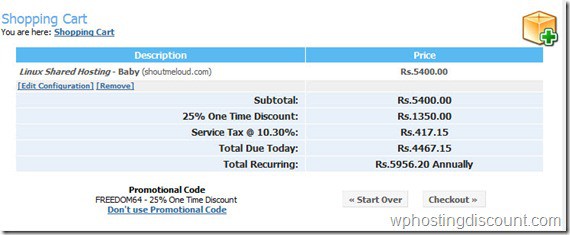 Sign up for Hostgator India (Coupon code: FREEDOM64)
Payment options for Indian Hostgator site:
Hostgator India offers various localized and standard payment options like PayPal, Moneybookers, Bank deposit and also payment by credit card or debit card.
This special discount coupon is valid till 15th August midnight (IST) and after that you can avail maximum possible 20% off. Here is a quick video on How to buy hosting from Hostgator and how to use this discount coupon. I skipped the payment part as I already hold 2 hostgator shared hosting account and I have no plans for new site for now.

Do let me know if you have taken advantage of independence day special discount and saved your money while shopping for an Indian hosting.