We have already shared few article on Installation of WordPress on various hosting. If you have missed it, here you can grab them:
Dreamhost is another shared webhosting which we recommend for WordPress blog and it's already listed under our list of recommended hosting for WordPress. In this tutorial , I will be sharing how you can install WordPress on Dreamhost Webhosting. Unlike Hostgator and Bluehost, Dreamhost has a custom cPanel. But Installation of WordPress is again simple using Fantastico. If you are still not signed up for Dreamhost, read my tutorial on How to sign up for Dreamhost using $50 Discount coupon and get a Dreamhost account + 1 free domain now. Once you have it, follow the steps mentioned to get your WordPress blog ready With Dreamhost in few minutes.
Tutorial: Installing WordPress on Dreamhost:
Once you signup with Dreamhost, they will send you login information for Dreamhost Webpanel. Login to your Dreamhost Panel and click on Free Website Software.
On the next page you will see two option to install any software on Dreamhost.
Easy installation
Advance Installation
In easy installation we have few limitations so we will use advance installation to install WordPress software.
Advance Installation mode:
Click on advance installation and select WordPress from the list of software's.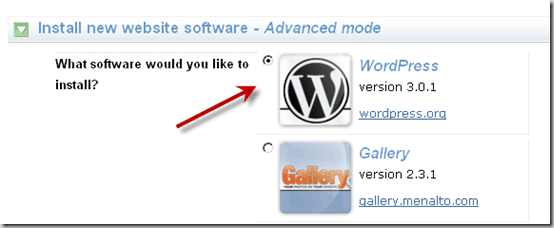 Select Domain
After selecting WordPress, scroll down to bottom of the page and select your domain on which you wish to install WordPress. After selecting domain name, we have two option for database.
Create Database automatically
Create Database manually
To simplify things, select create database automatically and your WordPress installation will not take more than 5 minutes.

Click on Install it for me now!
Success-message:
If you have done everything right, you will get a screen like this (below) stating, your WordPress will be installed within 10 minutes.

By now you have installed WordPress on your Dreamhost account, now you need to do 3 more steps which will make your WordPress blog live.
Install WordPress:
In some time (10-20 minz) you will receive an Email from Dreamhost stating WordPress is successfully created and you have to add a user. Follow the screenshots which will make it easier for you to understand.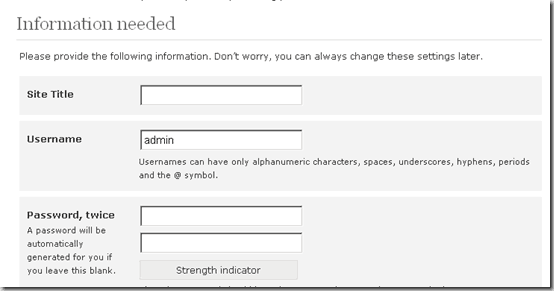 Avoid using admin as a username. It's the default username suggested by WordPress and any one can attempt hacking on your WordPress blog by brute force method.
That's it and your WordPress site is installed on Dreamhost. Now go ahead make essential changes on your WordPress blog and start writing your first blog post.