When it comes to cheap Managed WordPress Hosting, DreamPress offered by DreamHost is a very cost-effective solution.
DreamPress is DreamHost hosting on steroids for WordPress users. They provide more resources & benefits with their Managed WordPress Hosting than they do with their regular hosting service.
Since this premium hosting service is priced at only $19.95/month, it's a total value for the money.

Honestly, I have a limited experience with Dreamhost, but these are some of their current offerings:
Varnish caching
Different VPS for Web & MySQL
More memory
These things seem pretty lucrative.
We will do a full review sometime in the near future, however, today's news is something that will be appealing to many users who are fans of the popular Jetpack service.
Jetpack is a WordPress plugin from the guys behind WordPress. It brings many great features of WordPress.com to self-hosted WordPress blogs.
Even here at WPHostingDiscount, I use a lot of Jetpack's features to grow our blog.
The basic version of Jetpack is free, which offers many great premium-like features. At the same time, they have a premium plan that costs $99/year.
The premium plan of Jetpack includes:
Daily, automated, off-site backups of entire site content, data, and settings.
Daily, automated, malware scanning of entire site code, themes, and plugins.
One-click site restores from a backup.
Dedicated, priority support from Jetpack's WordPress and security experts.
13GB of high-speed, ad-free, high-definition video hosting.
Pre-approval to a WordPress-specific, high-quality ad program to generate revenue.
Akismet premium.
Jetpack + DreamPress = ❤️ for bloggers
Jetpack and DreamPress have now teamed up:
If you sign up for DreamPress, you will get this $99 Jetpack premium service for free!
If you are already an existing DreamPress user, you can enable the Jetpack premium package right away. (See below screenshot…)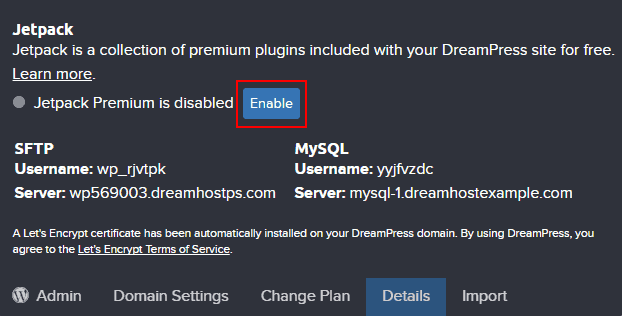 When you purchase DreamPress hosting (WordPress Managed Hosting by DreamHost) for one year, you will also get this premium Jetpack service (which includes their awesome backup and virus scanning features)!
Here is an excerpt from the official announcement post:
Even with all the benefits Jetpack Premium has to offer — including marketing features, themes and social tools — we realize not everyone has an extra $99 per year lying around. So we've decided to include it with every DreamPress install free of charge. We're not leaving our existing users out in the cold either. They can activate it on their existing instances with no additional expense. And we've coordinated with Automattic to make the installation process on a DreamPress account extra simple.
I believe it's a good value for the money if you are someone who wants the Jetpack premium service. You'll be saving $99/year & you will be enjoying a tension-free Managed WordPress Hosting experience.
What do you think about this partnership?
What do you think about this partnership between Jetpack & DreamPress? Do you think it will simplify the lives of users & help DreamHost make more sales?
If you are an existing DreamPress user, I would love to hear your views & opinion about this opportunity. Let me know in the comment section below!
Know someone who could benefit from this deal? Share this post with them!