WPEngine is one of the prominent name in managed WordPress hosting field. I have recently moved one of my major website to them, and I'm loving their amazing hosting environment for WordPress blogs. They are certainly not a budget constraint hosting, but if you are looking for a hosting which can handle your resource hungry WordPress blog, WPEngine is certainly the place for you. Their package starts with $29/month, and with one year pre-payment, you will get 2 month of free hosting.
Grab 2 month of free hosting from WpEngine
One of the major issues that I faced with WPEngine is instant support. Earlier, they offer support to their client via support ticket, managed by ZenDesk, or via telephone support. The good thing is their customer/technical support people are hardcore WordPress lover, so most of your queries will be solved instantly. To extend their features, WPEngine hosting is not offering support via Live chat. This is a great value addition for existing WPEngine customers and for new customers.
How to use WPEngine live chat support?
To use WPEngine live support feature, you need to login to your customer panel of WPEngine. Inside your WpEngine dashboard, you will see a support column at the top right, click on it, and select Live chat support.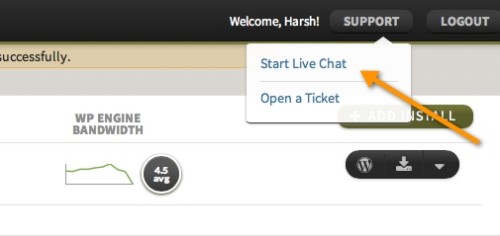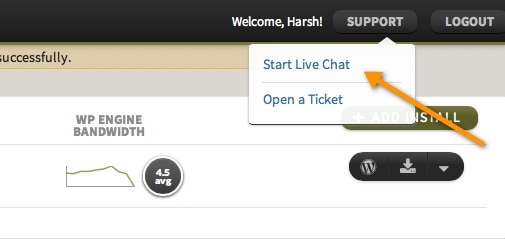 At the time of writing, WPEngine live chat support is available from 9AM to 6PM Central Time (GMT -5). In coming days they will be making it available 24*7. Over all, from a customer point of view, this is a great addition and very handy to get instant support.
If you are an existing customer of WPEngine managed WordPress hosting, do let me know your views about live chat support. How's your experience so far?