It is that time of the year again when you have the opportunity of buying all the premium blogging tools you've been longing to buy, but can't normally afford. Black Friday and Cyber Monday offer you the chance to buy these tools at a super discounted price.
What better time to invest in these tools than right now? These deals come only once per year and last for just 2 or 3 days.
When I started blogging, I knew all the recommended tools I needed:
Getting my domain registered.
Paying for hosting.
Buying a theme.
Getting plugins.
etc.
But the problem was that I didn't have the money required to acquire those tools.
Then I learned about Black Friday and Cyber Monday.
For bloggers, this is a great time to invest in your business while saving lots of money. Remember, it will be another year before this happens again, and if you're like me, you probably don't want to wait another year.
It is at this point that I present to you the 2022 Black Friday discounts starting on 25th November 2022.
In this thread, I will be sharing with you the "Best Black Friday Web Hosting Deals for WordPress".
Best Black Friday Web Hosting Deals for WordPress
1. Bluehost Hosting Black Friday Discount: (Best Offer)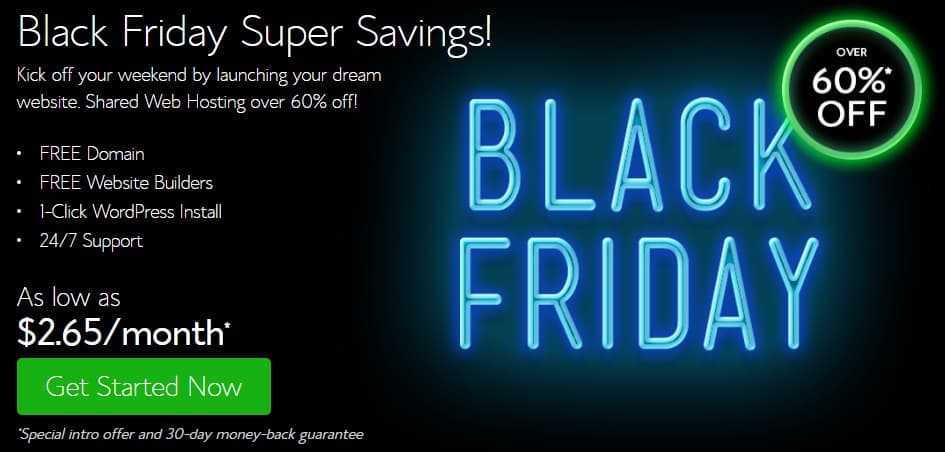 Bluehost remains my favorite shared hosting company. I've been using them to host many of my sites for years now and have never had an issue with their service.
Interestingly, Bluehost is offering a mouth-watering discount on Black Friday for the next 48 hours. If you are thinking of buying a web host (instead of using a free one), this is the right time to grab a great deal on hosting.
Bluehost is offering their starter package at an alarming cheap price of $2.65/month with a free domain when you purchase hosting for 36 months (3 years).
DETAILS:
Start Date: Nov 25th, 12.00 A.M CST
End Date: Nov 29th, 11.59PM CST
Deal: Get hosting for $2.65/month (36 months term)
Sign up Link: Get Bluehost Black Friday Deal
2. HostGator Black Friday Discount

When it comes to Black Friday and Cyber Monday deals, HostGator always comes through. It remains a favorite host of many bloggers because of its user-friendliness. Many bloggers prefer going for the "Baby" hosting plan because it saves lots of money in the long run.
Definitely take advantage of this and get a great discount from HostGator.
DETAILS:
Start Date: Deal is live.
End Date: Nov 29th, 11.59PM CST
Discount: 65% off all new hosting plus $5.99 .com & .net Domains
Coupon Code: SHOUTMELOUD65
Sign up Link: Grab HostGator 2022 Sale
Note:
HostGator's coupons will change every day from Black Friday until Cyber Monday. However, if you use the links provided here, you don't need to enter the coupon, as their system will add the coupon & apply the discount for you automatically.
Below are the coupons for your reference:
3. SiteGround Hosting Discount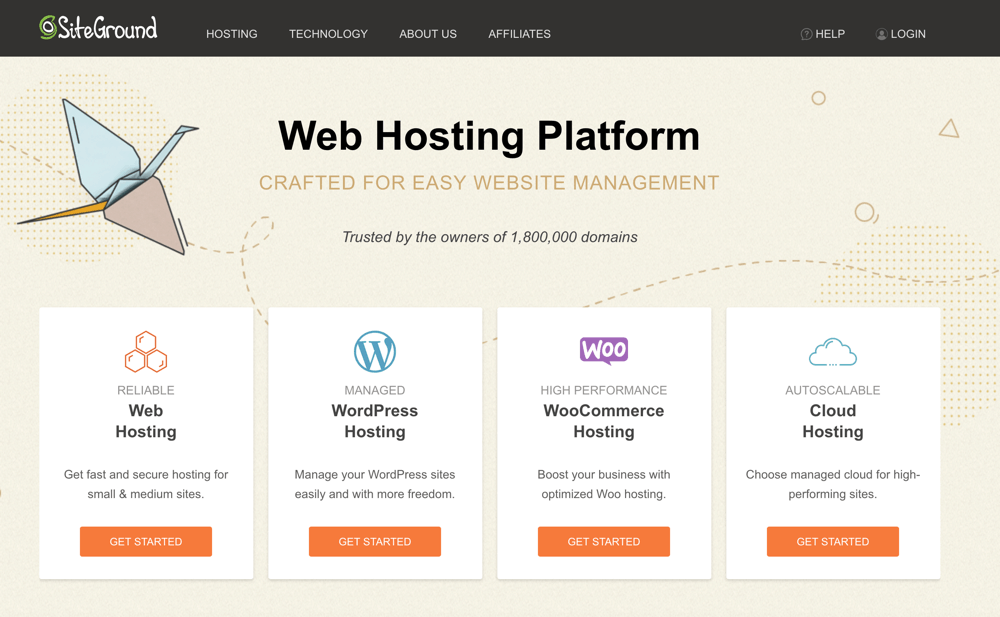 There's no way to make a list of the best web hosting companies on the internet without including SiteGround.
It has gathered a great reputation and 5-star rating over the years, which is why a majority of popular marketers on the internet are using them. Luckily, they're also offering a 75% discount on all shared hosting plans this Black Friday.
Use this golden opportunity and get yourself a super-quality hosting plan from SiteGround. The best thing about them is their unmatched 24/7 customer support.
The discount applies to only 1-year of the hosting. You will start paying the normal renewal fee after the first year.
DETAILS
4. WPEngine Hosting Discount

If you've been blogging for a while now, then I bet you've heard of WPEngine before. It's one of the most robust and trusted web hosting companies on the internet. If you've been looking for ways to save money on WPEngine, then the opportunity is finally here.
On this Black Friday and Cyber Monday, you can get 5 and a half month of managed WordPress hosting free of charge on any annual subscription of WP Engine. That's a killer discount of 30%.
However, I must tell you that this offer is only open for new customers purchasing any of their plans. It's not meant for existing customers, upgrades, or any other product purchase.
DETAILS
Start Date: TBD
End Date: 28th November 2022
Discount: 5 and a half month hostingfree
Coupon code: cyberwpe2022
Sign up Link: Get WPEngine Black Friday Deal
5. Cloudways Hosting Discount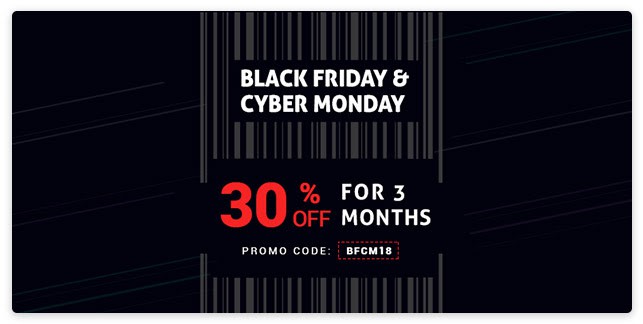 Have you heard of Cloudways? Well, it's a platform to host your blogs & web apps on cloud hosting such as DigitalOcean (Amazon's web service). They have been around since 2011, and they are always known for their innovative ideas.
They specialize in WordPress hosting, and they feature the latest PHP applications and frameworks. Cloudways also offers 24/7 customer support, free SSL certificates, 1-Click Backups, Cloudways API, and much more.
Interestingly, Cloudways offers a managed hosting platform, and they are one of the top platforms to host your blog or web apps on a cloud server.
DETAILS
Start Date: Live
End Date: 30th November 2022
Coupon Code: BFCM
Discount Details: 30% discount for the first 3 months on all plans
7. A2 Hosting Discount

A2 is a top notch web hosting company that originated in 2003. They're known for their affordable, quality hosting services.
According to them, they'll launch their biggest ever Black Friday deal, so you better get your credit card ready and not miss this rare opportunity.
DETAILS:
Start Date: Already live.
End Date: 27th November 2022
Discount: Shared Web Hosting: 67% off (Prices from $2.64), Managed VPS Servers: 50% off (Prices from $25), Reseller Hosting: 40% off (Prices from $11.99)
Coupon: SaveBig
Sign up Link: Get A2 Hosting Black Friday Discount
There you have it. Don't wait any further to grab these golden opportunities. You may regret not taking action now, and then you'll have to wait another year for these prices to come around again. Hurry up and get these discounts while the deals are still ON!
Share this post with your friends and let them know about the great deals!