WooCommerce makes it possible to create high-powered eCommerce stores with WordPress.
But here's the thing about WooCommerce:
You can't just slap it up on any old WordPress host and expect blazing fast performance. There are actually some features of WooCommerce that require special attention. And it's essential to pay attention to these features because every second you can shave off your site's load time will boost your conversions and put more money in your pocket.
More than that, a typical caching system would not work with WooCommerce environment and it's important that your checkout pages, add to cart pages are excluded from caching. This is where a lot of Woocommerce shop owners make a mistake and later on regret as un-optimized hosting starts affecting their Woocommerce site and hence the revenue.
If you are here to find out the best WooCommerce hosting providers. then you are at the right place. In the past 10 years, we have helped numerous owners like you to understand not only the technology behind these hosting but help you to pick the right one.
I'll share some premium, mid-range, and affordable options so that you can find an optimal WooCommerce host no matter what budget you have.
| Hosting | Free Migration? | Starts at | |
| --- | --- | --- | --- |
| Kinsta | Free migration | $100/month | |
| Bluehost | Preinstalled | $12.95/month | |
| Cloudways | First website | $5/month | |
| SiteGround | Preinstalled | $3.95/month | |
How WooCommerce Hosting is Different Than Regular WordPress Hosting
There are five main ways in which WooCommerce requires special handling:
SSL Certificate – Ever since Google made HTTPS a ranking factor, this is a good practice for any WordPress site. But being able to easily add an SSL (Secure Sockets Layer) certificate is especially important for a WooCommerce store. You absolutely need to secure your connection to keep your shoppers' data safe. In your case, you need a hosting which let you host a custom SSL certificate.
Caching – Caching is perfect for speeding up your site. But caching in WooCommerce requires special attention because you can introduce bugs like a shopping cart counter that doesn't update because the old number is cached. If you want the benefits of caching without the bugs, you need a host that understand it and offers a solution to exclude checkout pages from caching.
Database Usage – Unless your store is only selling a few products, your WooCommerce site will probably make a lot more database calls than a regular WordPress site because of all the products/categories involved. Your hosting needs to be able to handle this. However, I do recommend you to regularly use something like Advanced database cleaner to delete orphan tables so that your database doesn't explode and slows down your shop.
Email – Because you'll likely be sending lots of confirmation emails, you'll need a host that can handle those extra emails or provide seamlessly integration for transactional emails.
External Site Calls – Because you'll need to seamlessly integrate with third-party payment services, shipping calculators, or other services, you'll need a host that can work with using more external calls than regular WordPress sites.
WooCommerce recommended hosting
WooCommerce has officially recommended a list of hosting that you can use for your WooCommce store. Depending on the size of your online store (from thousands to millions of orders), you can pick a host that suits your needs.
Here are WooCommerce recommended hosting:
Few new stores:
Growing stores:
Enterprise WooCommerce Hosting for Large Stores
Now, these are some of the obvious choices and you should pick the one based on if you are starting out or already have a store and looking to migrate. SiteGround is definitely #1 choice for starting out as it cost only $11.95/month. If you already have a digital strategy in place and looking for more high end solution, then Liquidweb or Kinsta is the idle solution for your need. Liquidweb starts at $39/month and Kinsta starts at $30/month.
Best Hosting for WooCommerce:
1. SiteGround – Budget managed WooCommerce Hosting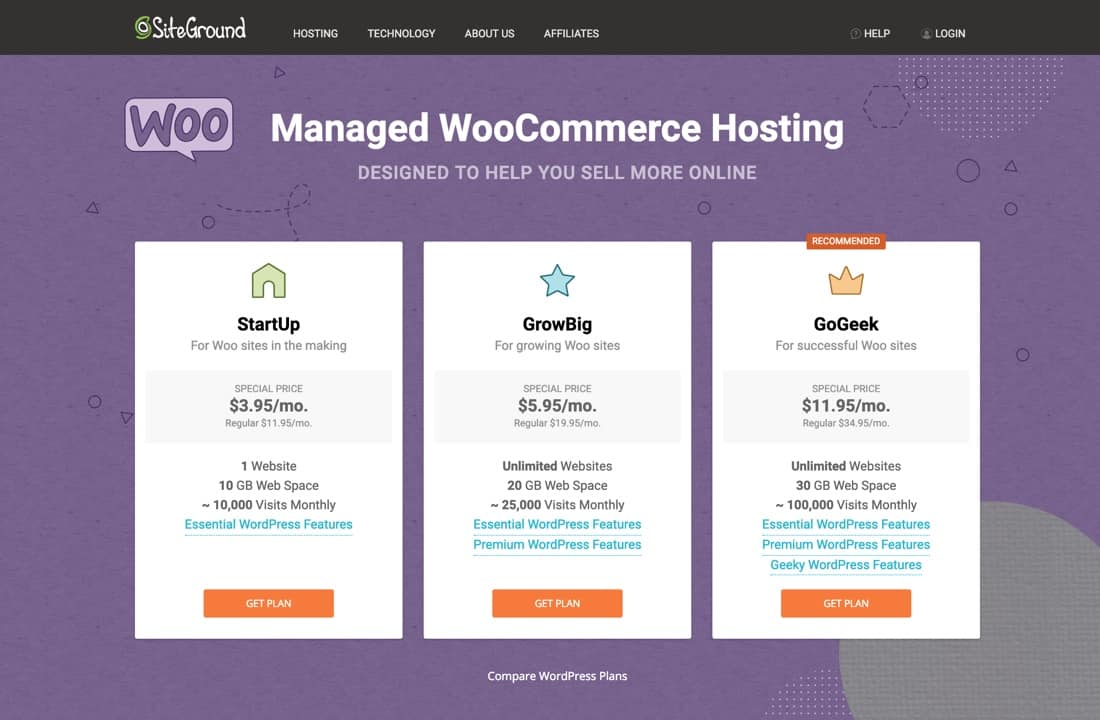 If you're looking for the absolute cheapest WooCommerce hosting, SiteGround is for you. Despite its cheap costs, SiteGround still has enough functionality to provide a great option for small to medium-sized WooCommerce sites.
SiteGround WooCommerce hosting comes with WooCommerce and a storefront theme pre-installed, which makes it another great option if you're launching your first WooCommerce store.
You'll also get a free SSL certificate to help with security and PCI compliance (the standards for accepting credit cards).
And like SiteGround's regular WordPress hosting, your hosting is managed and includes helpful features like automatic updates and backups.
Lastly, all of SiteGround's servers use SSD, which provides better performance for your store. You'll also get access to their powerful SuperCacher (depending on your plan) as well as proactive security scans to keep your site safe from malicious attacks.
For all those features, SiteGround's WooCommerce hosting plans start at just $3.95/month, though I recommend you go with at least the $7.95/month "GrowBig" plan to get access to the SuperCacher.
Try SiteGround WooCommerce Hosting
2. Kinsta – Premium WooCommerce Hosting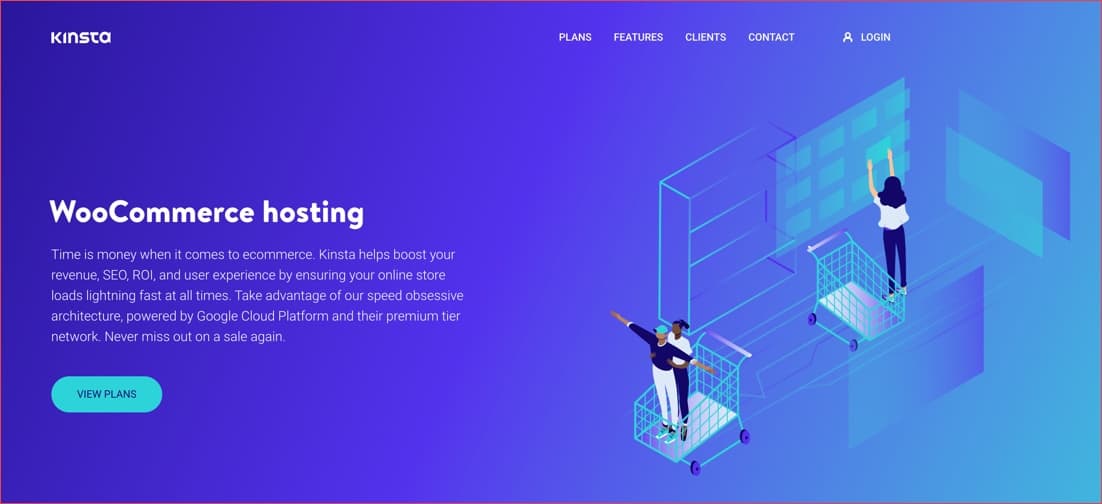 Kinsta is what ShoutMeLoud is hosted on. After bouncing around a few hosts, I finally settled on Kinsta because it offered the best performance and support of all the hosts I'd tried.
And while ShoutMeLoud isn't a WooCommerce site, Kinsta also offers optimized WooCommerce hosting.
With any Kinsta hosting plan, you get high-performance managed WordPress hosting that offers unlimited visitors and pageviews. All of their hosting is powered by the Google Cloud infrastructure, so you know it's reliable.
And Kinsta keeps your site safe with firewalls and malware scans as well as daily backups.
Here is how Kinsta Dashboard looks like: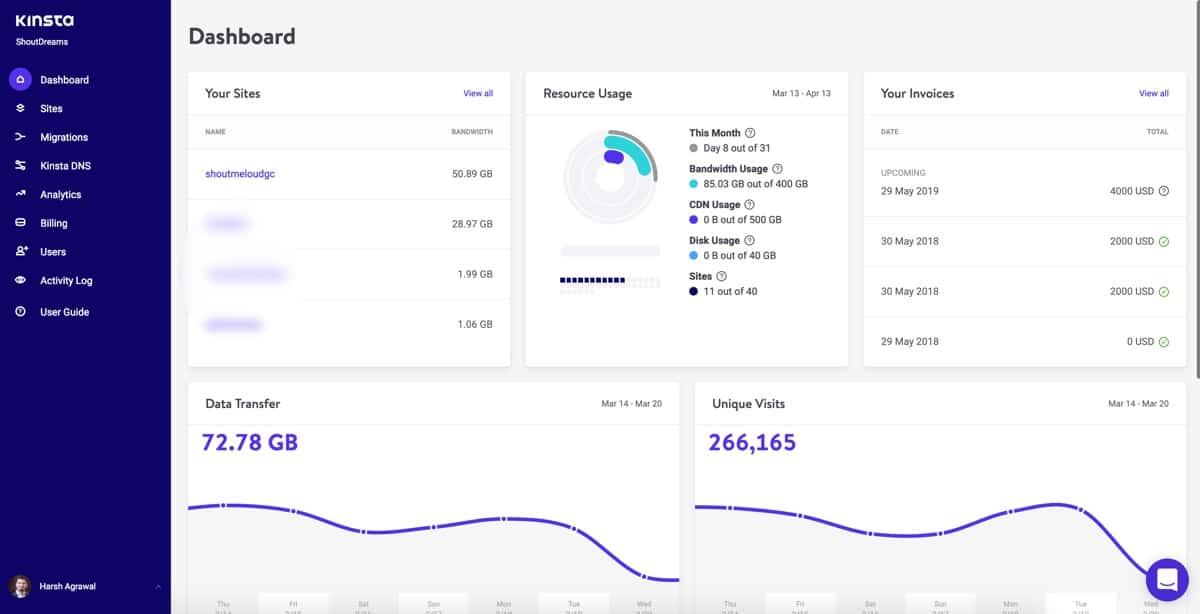 When you go with a WooCommerce optimized plan, you'll also get these great features:
Free WooCommerce migration – Kinsta will move your WooCommerce site over at no cost.
SSL and HTTP/2 support – Keep your connection secure with Kinsta's A+ rating (as rated by Qualys SSL Labs).
Dedicated MySQL server add-ons – If you need better database performance, you can easily add a dedicated MySQL server.
Knowledgeable WooCommerce support – Kinsta's experts know all about WooCommerce, so if you need help optimizing or scaling your performance, they can always lend a hand.
Kinsta's plans start at $30/month, so Kinsta is, unfortunately, really only for sites that require premium performance.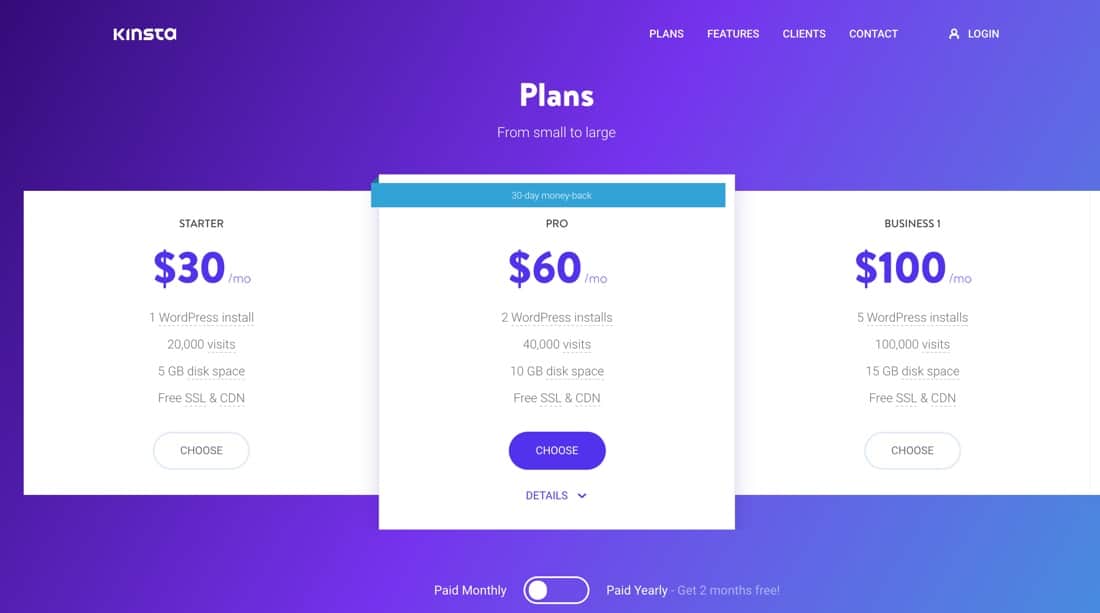 I'm using Kinsta for WPHostingDiscount & also for ShoutMeLoud. It's an amazing WordPress hosting for both normal WordPress blogs & WooCommerce based WordPress sites.
3. Bluehost – Affordable WooCommerce Hosting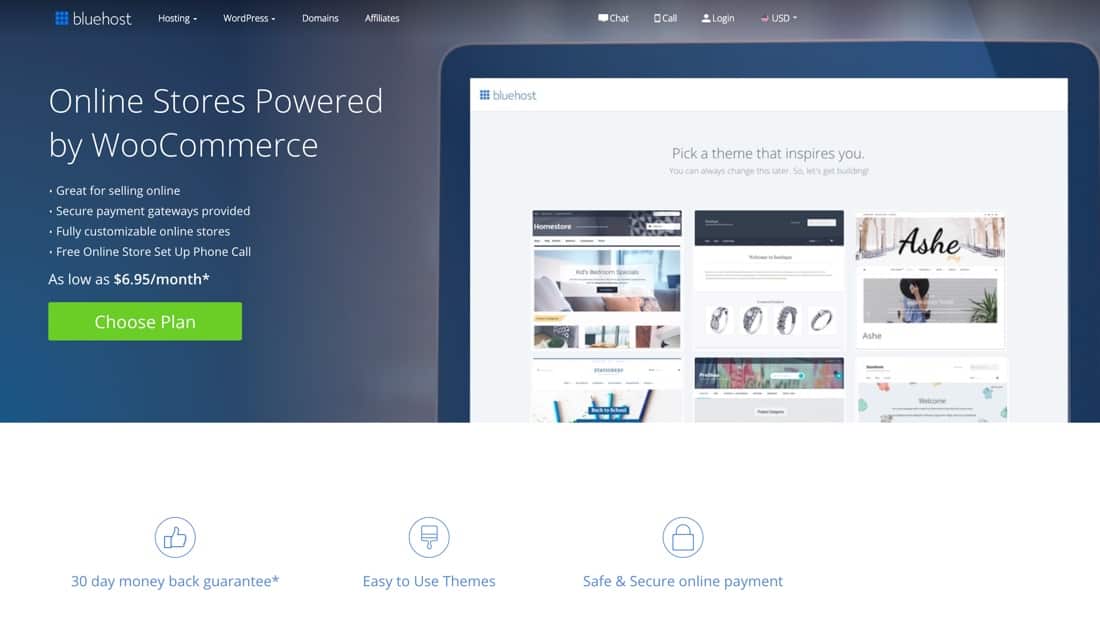 If you don't want to shell out $100/month for Kinsta's premium hosting, Bluehost is a much more affordable option for WooCommerce hosting.
Bluehost's WooCommerce plans start at just $12.95/month and all include a dedicated IP address and SSL certificate to make sure that your site's connection is secure.
They also make it easy to get started with pre-installed WooCommerce, so if you're a beginner starting out with your first WooCommerce store, this is a great option.
In addition to those WooCommerce-specific features, Bluehost also offers:

Unmetered bandwidth for all plans – Use as much data as your store needs.
Free domain – Get a free domain name for your store.
Unlimited email storage – On their $15.95/month "Plus" plan and above, you'll get unlimited email storage, which is great for a WooCommerce store.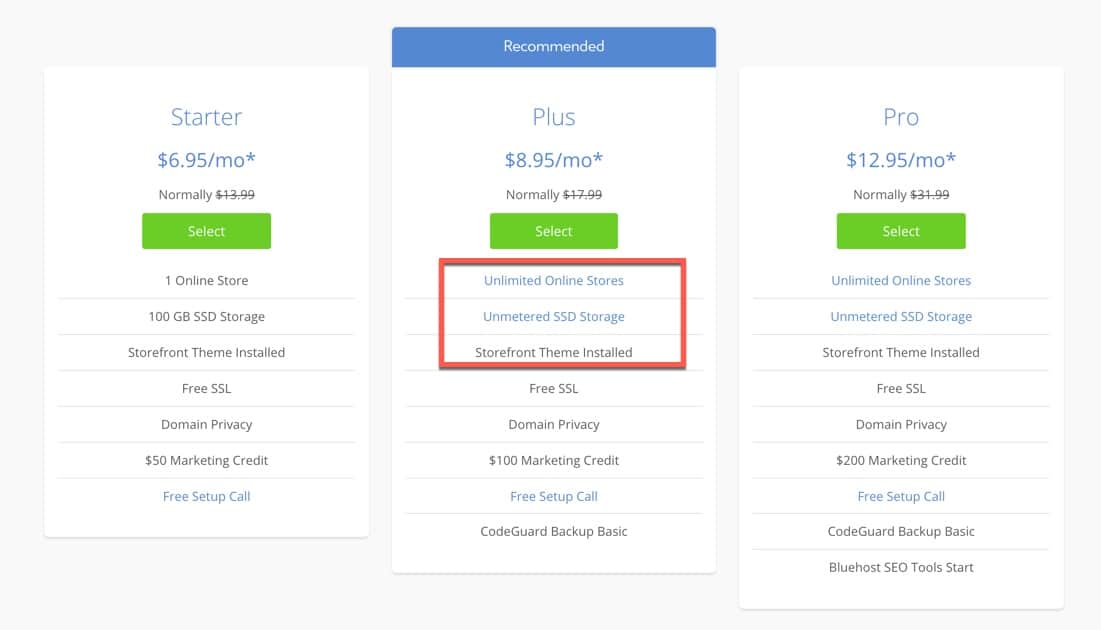 Get started with Bluehost today for as little as $12.95/month, though I recommend you go with at least the $15.95 plan to get unlimited email storage.
4. Cloudways – Good Mid-Range WooCommerce Hosting
If you're in the process of scaling up your WooCommerce store but aren't quite ready to pay for Kinsta, Cloudways is a great mid-range option.
Cloudways offers WooCommerce-optimized plans that you can host on cloud infrastructure from DigitalOcean, Vultr, Amazon, Google Clouds service, or Kyup.
All of their plans have excellent security and make it easy to integrate an SSL certificate. You'll also get regular backups to keep your data safe and a built-in MySQL manager so that you can fine-tune your WooCommerce database.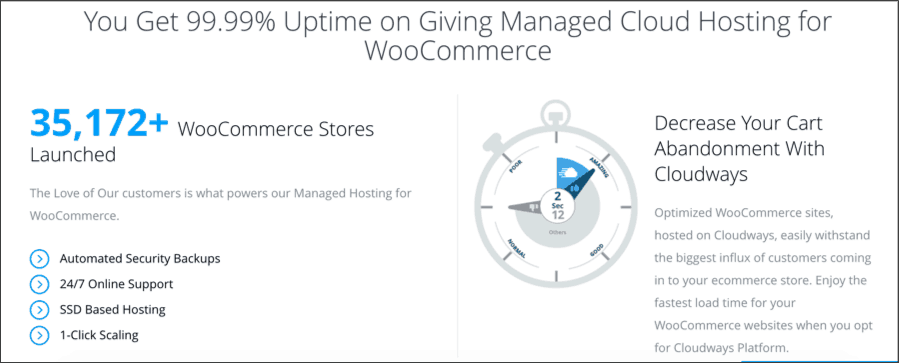 And if you ever need to scale your site's performance, it's easy to upgrade your hosting plan with a single click.
WP-CLI and 24/7 support round out a powerful set of features.
Cloudways plans start at just $5/month for basic DigitalOcean hosting. Depending on your infrastructure, basic plans may cost more. For example, the cheapest plan on the Google Cloud infrastructure is ~$34/month.
And Cloudways offers a free trial for you to test out their service before you decide to buy.
Final Thoughts and Recommendations
All of these hosts provide excellent WooCommerce hosting. In the end, it mainly comes down to your budget and performance needs.
If you've got a large site and need maximum performance, you should definitely pay for Kinsta. Even though it's more expensive, the performance upgrade is worth it.
If you're starting your first WooCommerce site, or run a small to medium-sized store, I recommend SiteGround, though Bluehost is another good option.
And finally, if you're somewhere in the middle, you should go with Cloudways for a great mid-tier option. You'll still get better performance than the budget hosts, but you don't have to make the jump all the way to Kinsta's premium Woocommerce hosting. It's a good middle-of-the-road option as you scale up your store.
How are you hosting your WooCommmerce store? Are you using any of the hosts on this list? Let me know in the comments!
Don't forget to share this post!