Choosing the right web hosting company is one of the first crucial things for starting your online business.
A good web-host will ensure that your site remains up, and you don't need to get into any tech hassles including hacking or managing your hosting space.
When it comes to WordPress shared hosting, there is few popular name out there like Bluehost, Hostgator, Dreamhost and so on. In the last ten years, I have tried all of these hosting companies, and I know what are the pros and cons of each.
Also see: BlueHost Vs HostGator for WordPress : Which is Better?
One major problem that a newbie faces is, deciding which hosting to buy in between these three. Since all of them have a good reputation and great uptime. Like any hosting, they do have their downside like Dreamhost support is not as good as Hostgator or Bluehost.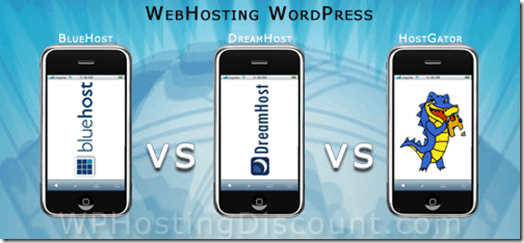 Here I will be doing a comparison between Hostgator Vs Dreamhost Vs Bluehost, and will help you to decide which hosting you should go for, and which will be best for your limited budget. In the end, I will conclude and rate these hosting, based on all the parameters and my experience with them. Do remember,
Do remember, I have only used them for WordPress platform, and this article is based on my experience with them as WordPress hosting.
All these three Webhosting companies offer unlimited Webhosting resources and are perfect for hosting our WordPress sites. Though, the major difference comes in pricing and support. Dreamhost hosting here offers custom cPanel, whereas Hostgator and Bluehost offer standard cPanel. In 2019, Bluehost also offers custom panel for managing our WordPress sites.
Also, on Dreamhost, you will not find Fantastico to install WordPress as they are using the custom script.
Comparison chart: Bluehost Vs Dreamhost vs. Hostgator
First, let's look at the chart that shows the major difference between these three hosting. I had shared hosting plans with all of them, and this review is particularly for shared hosting plans from these hosting companies. In this
In this case, I'm considering Baby plan from Hostgator because that has unlimited hosting.
Feature
Hostgator
Bluehost
Dreamhost
Domain Price
15$
1 Free Domain
1 Free Domain
Plans
Shared/VPS/ Dedicated
Shared/VPS/Dedicated
Shared /VPS/Dedicated
Price/year
Baby: 119$
Hatchling: 83$
Business: 179$
54.0$
119$
Disk Space
Unlimited
Unlimited
Unlimited
Bandwidth
Unlimited
Unlimited
Unlimited
Domains allowed
Unlimited
Unlimited
Unlimited
Live Support
Yes
Yes
Yes (Poor quality)
cPanel
Yes
Yes
Custom cPanel
Fantastico
Yes
Yes
Yes
Free Google Adwords
100$
$50
75$
Payment Option
Paypal/Credit Card
Paypal/Credit Card
Credit card
WordPress compatible
Yes
Yes
Yes
Twitter Support
Yes
No
Yes but slow
Coupon code
HGusers
Added in the link
Dreamsavings50
Rating/5
4.5
5
2.5
I have worked with various Clients and most of the time I work on these 3 hosting. From my experience, I would suggest you Bluehost as it's also officially recommended by WordPress team.
Dreamhost vs. Bluehost:
I have used Dreamhost in the past, and it was good, but when I compare it with Bluehost or Hostgator, I always recommend the other two first. What DreamHost lacks is a prompt support like Bluehost. Also, both of them offers free domain and free AdWords coupon. In the term of the resource provided with the package, both are equal and good.
Major different comes in Quality of service, where BlueHost is two steps ahead of Dreamhost.
So, my recommendation is BlueHost over DreamHost.
DreamHost Web Hosting is useful when you are in limited budget and need a super budget hosting.
One year of Dreamhost hosting cost $119
On BlueHost you can get one year hosting + 1 domain for around $60, with the below-discounted link.
So the price is also a driving factor, and if you were looking for a choice between these two, I would recommend opting for Bluehost for better peace of mind.
Conclusion:
Among these three hosting, if you were looking for a single recommendation, I would suggest buying hosting from BlueHost.
BlueHost has done an excellent job in recent time and now offers various hosting package. You can start with their shared hosting, and when you need more resources, upgrade to their VPS or dedicated hosting package.
Do let me know which shared hosting you like the most and why?