Finding a domain name is not an easy job and by selecting a bad domain name you might hurt your brand in future. Before buying a domain name you should read out guide on How to select a domain name. After reading that article you will have an idea about good and bad domain name, but this won't solve all the problem. Even if you have figure out the words which you would like to use as your domain name, such domain names are not always available.
Now the best thing which you could do here is by mixing up your words, adding prefix or suffix in front of your domain name and find an available domain name. Most of the domain registrars domain suggestion tool is not so great which can help you to come up with a usable domain name and check it's availability. This is where BustaName come into the picture and let me show you how this cool free service works and how you can make most out of it.
How to Use BustAName to Come up with Cool domain name:
BustAName is a free domain search tool which let you mix up words to create new name and check for its availability. Let me quickly show you how it works with an example. There is also a video at the end to guide you on how this works.
Head over to Bustaname.com and start entering your desire words in Word combiner section. In my case, I added few words like "my" "SEO" "Blog":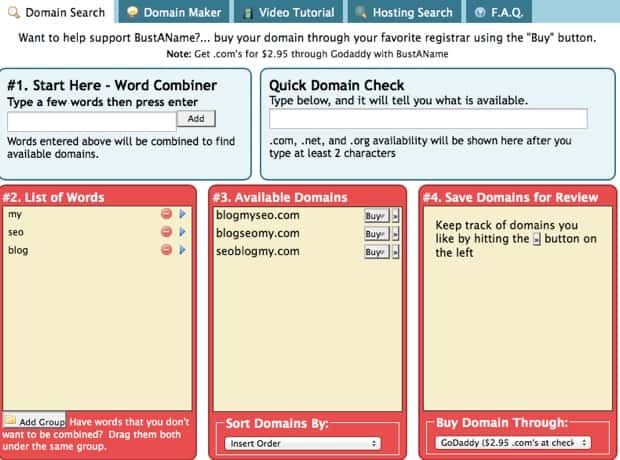 Based on your input words, Bustaname will combine all the words to create a new word and check for that name availability with .com as default domain extension. At the bottom you have more options to further refine your search and you can add prefix, suffix, combine three words to form a new domain name.

Another useful feature of Bustaname is domain maker tool. You can click on domain maker tool at the top and search for natural sounding domain name by entering one word which you want at the beginning or at the end of the domain name. Here you can also limit the character for your domain name, which I believe is very handy for any webmaster like you or me. Here is a screenshot of Domain maker to give you a visual view of this tool: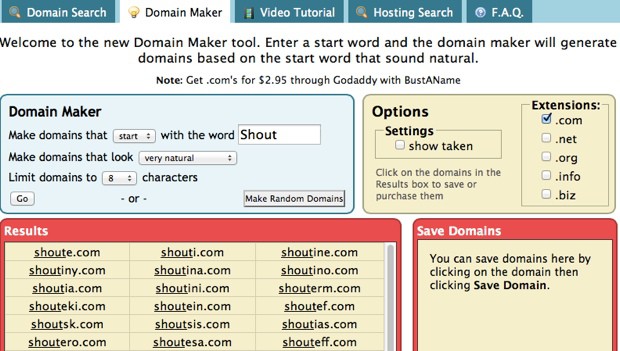 More over once you are done finding your cool domain name, you can also click on buy now in front of domain name and head over to sites like Godaddy or Namecheap to complete your domain purchase. Over all, I find bustaname to be one handy domain name finding service for anyone in need of a cool domain name. Here is a quick video demo of bustaname service which will show you how you can search for domain using BustAName and Name maker:

Go ahead and check out BustAName and let me know your thoughts. If you know of similar service, do let me know via comments.