One of the good thing about a good service is, they are certain that customers will never leave. There are only very few webhosting companies which offers complete risk free trial account. Dreamhost offers 14 days risk free trial account, and now Linode joined the league by offering free trial account for few hours. Linode is one of the top name in unmanaged VPS servers, and now they started offering free Linode trial account for new customers, to try out their service.
How to use Linode Free Trial account:
Linode offers complete risk-free trial account of their Linode 512 cloud server. This particular package offers:
512 MB Ram
4 CPU
24 Gb storage
200 Gb transfer
$19.95/month
To avail this offer all you need to do is go to http://linode.com, and enter the details where it's written linode free account. Once you fill out the details, you will get activation link in your Email: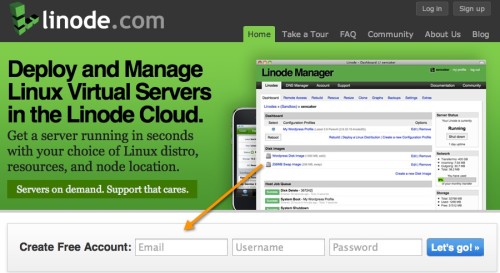 Once you click on the activation Email, you will get an option to activate your free trial account for 4 hours. Look at the screenshot below: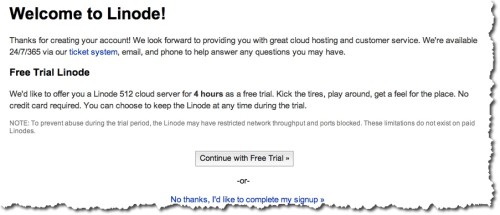 Linode offers server at different location including U.S., U.K., and Japan. You can activate your 4 hour free trial account for any of the datacenter. At the time of writing, Linode offers data server at following locations:
Tokyo
London
Newark
Atlanta
Dallas
Fremont
And then you can select the OS you wish to build your Linode with, and build your project on Linode 512 Server. You have four hours to take a test drive of Linode powerful servers, and once 4 hour is over, you will be asked to activate your account. If you find Linode servers meet your web project requirement, you can convert your account into normal Paid account.
You can upgrade to any other package anytime from your Linode dashboard. (How to upgrade Linode VPS package). If you are an iPhone user, you would like to try Linode manager app for iOS, which will help you to manage your server right from your smartphone.
Sign up for Free account at Linode
I hosted one of my WordPress blog once on Linode, and if you are one of those guys who like to work on unmanaged VPS, Linode is going to be your one of the best buy. Go ahead, try Linode and let me know your feedback about their service.