When it comes to booking a domain name, we have plenty of options.
Two names that are currently very popular for booking domains are Namecheap and GoDaddy.
(Soon, we will see Google Domains as the new big name domain registrar, but that is a story for another day.)
Today, I will be discussing and giving my viewpoint on GoDaddy vs. Namecheap; I will also give you my verdict on which is a better place to register a new domain name.
Namecheap or GoDaddy: Which is the best place to book a domain name?
I have been a customer of both of these domain registrars, and both of them have their pros and cons.
Let's look at some of these pros and cons of so that you can create your own opinion on where to buy your new domain names.
| Features | | |
| --- | --- | --- |
| Domain Pricing | $10.29 | Starts from $0.99 First time and $14+ renewal |
| Ease of Registration | Straight Forward | Technical |
| Newbie Friendly | Yes | No |
| Dashboard/Interface | Simple | Overwhelming |
| Recurring Payment | Yes | Yes |
| Domain Registration Coupons | Occasionally | Always Available |
| Customer Support | Live Chat/Email | Live Chat/Email/Phone |
| Domain Privacy | Yes | Yes |
| What Next? | Visit Namecheap | Visit Godaddy |
Domain Prices
One of the major factors I always consider when booking a domain name is the price.
GoDaddy is my first preference when it comes to price, as there are many GoDaddy coupon codes available which will let you grab your first domain from GoDaddy for only $1.99.
Namecheap runs occasional social media contests to unlock a "special domain price offer" and is useful when you are not in urgent need of buying a domain name.
Usually, you will get a domain name for $10.29 from Namecheap, where you can grab your first .com domain from GoDaddy for less than $5 with any available coupon.
Ease of Registration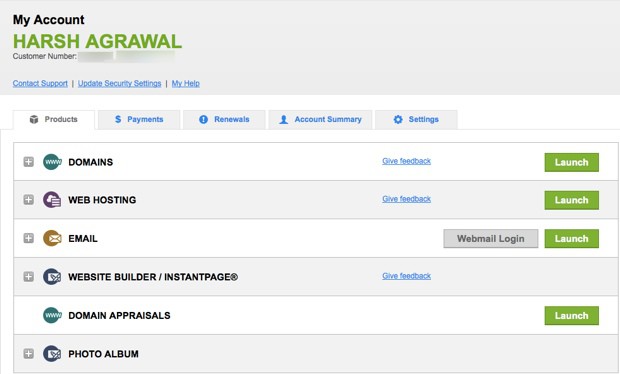 One of the biggest cons of GoDaddy is the domain registration process.
Unlike other domain registrars (like Namecheap), GoDaddy tries to sell you many extra offers like other domain extensions and hosting. This can be irritating.
For novice users, this upsell process makes it costlier, as most beginners end up buying extra stuff which they might not use or need.
With Namecheap, buying a domain is very easy, and even with zero technical skills, you can quickly purchase a domain name without any hassle.
If you are a technical person and well-versed with how the domain and hosting businesses work, you will have no problems with GoDaddy. If you are an internet newbie, Namecheap will give you peace of mind with its simplicity.
Dashboard/Interface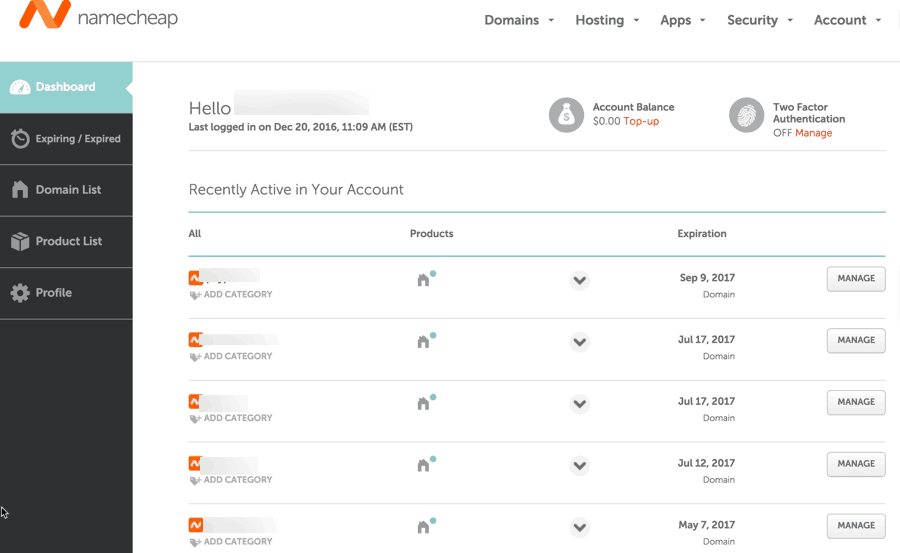 Similarly, GoDaddy's interface is overwhelming, whereas Namecheap's interface is simple as you can see in the screenshot above.
Since GoDaddy is more than just a domain registrar, you will find many options like web hosting, email hosting, and so on.
If you need more than a domain name (e.g. website builder, email hosting, etc.), GoDaddy is indeed a better option. But if you just wish to book a couple of domain names and nothing else, Namecheap is much simpler.
Namecheap or GoDaddy: My verdict
Both domain registrars come with their own shares of good and bad.
GoDaddy is a clear winner when it comes to the price war because you can buy domains at a very low price. This is useful when you have to buy domains in bulk as your savings will be quite good. Similarly, you can always get some discounts on domain renewals.
The downside of GoDaddy is the lengthy upsell, where they will try to sell you many add-ons at every stage, and you have to be careful when booking a domain name to not purchase any of these extra services.
Namecheap, on the other hand, has a simple dashboard and interface which is easy to understand and use.
Overall, despite the overwhelming interface, I vote for GoDaddy as my preferred domain registrar because of its pricing and experience in the domain industry. (Also if I need the add-ons, it's a good place to get them.)
If you are booking a domain for the first time, it's up to you which interface you want to get familiar with.
If you have any questions regarding GoDaddy vs. Namecheap as the better domain registrar, let me know via the comments.
Also, if you are an experienced customer of Namecheap or GoDaddy, share your reviews and comparisons with me in the comments below.
Don't forget to share this post!