I have already shared Hostgator review, and we all know it's one of the top shared web hosting company for WordPress. On our other Make Money online blog, we shared about how you can go ahead with Free WordPress migration via Hostgator. Now here, I'm sharing one quick tip that will save your another $10-$15 for domain renewal.
Hostgator offer free domain transfer service for your primary domain name. So when you sign up for Hostgator with primary domain hosted elsewhere (GoDaddy or Namecheap), you can transfer it to Hostgator for free and this will also include one-year free renewal of your domain.
Though I don't prefer to keep my domain with Hostgator because at this moment they cost $15/domain but in some days when Hostgator will be launching their domain service, we can always use it as a domain registrar.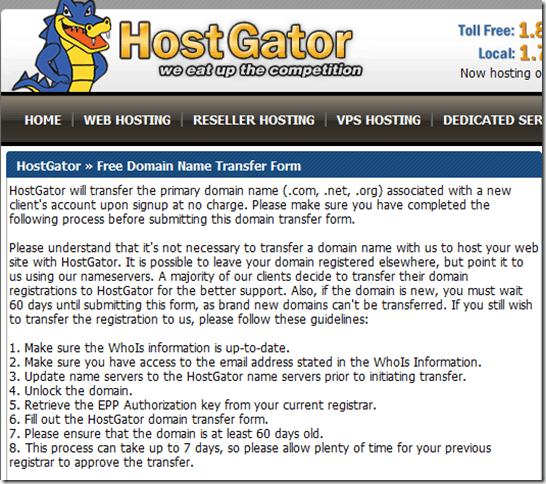 For now, wheat I suggest is transferred your domain to Hostgator (Primary domain) and get one-year free renewal on your domain. When your domain next renewal period will come, transfer it back to old domain registrar. This will be good to save your 10-15$.
FAQ's about Hostgator free domain renewal service:
Domain should be at least 60 days old
Should be a primary domain with Hostgator
This offer is valid for all TLD's except few with the high price.
Domain should be unlocked
Name server should be pointing to Hostgator
Email address and Who.is info should be updated
Sign up for Hostgator (30% Discount code: HGusers )
Request form for domain migration
I like the idea of saving $12/year with just little tip, and if you happen to be like me who have 2-3 shared hosting account with Hostgator, this is a good way to save money.
Don't forget to subscribe to our Email newsletter to stay updated with latest Hosting tip and coupons.