Do you want to have your own WordPress blog?
Here's a guide to installing & launching your WordPress blog in the next 5 minutes.
For this guide, I will be using HostGator, which is one of the recommended hosting platforms for hosting a WordPress site. In this tutorial, you will learn how to easily install a WordPress site on HostGator's web hosting.
I would recommend you grab the "Baby package" from HostGator (using the link below), which allows you to host multiple WordPress blogs for the least amount of money. Make sure you purchase it for 2-3 years as this will help you to save even more in the long term.
We will be using QuickInstall (powered by Mojo Marketplace) to install WordPress on HostGator.
Watch this newly updated video to learn the complete process of installing a WordPress blog using QuickInstall:
(Note: QuickInstall (powered by Mojo Marketplace) is a script that will let you install a lot of software and blogging platforms with a few clicks. Installing WordPress using QuickInstall is the easiest way to get started with HostGator.)
Complete guide to Install WordPress on HostGator:
Many people suggest using the manual installation method, but I believe it is too technical for most people. You would need to:
manually create a database
assign users
…do a lot more really technical things
So instead, I will outline this simple and easy method of using Quick Install to Install WordPress on your HostGator hosting.
First, login to your HostGator cPanel by typing your primary domain name followed by "/cPanel". Ex: domain.com/cPanel.
If your name server is not yet replicated, follow the login link given in the welcome email and then login to your HostGator cPanel.
Navigate down to "QuickInstall" under the Software/Services category.

On the next page, you will see tons of options. Don't get overwhelmed by all these options.
(HostGator's new WordPress installation is powered by Mojo Marketplace & if you follow all the steps outlined here, you can install the WordPress software on HostGator hosting for free.)
Select "WordPress" as the option & click on "Install WordPress":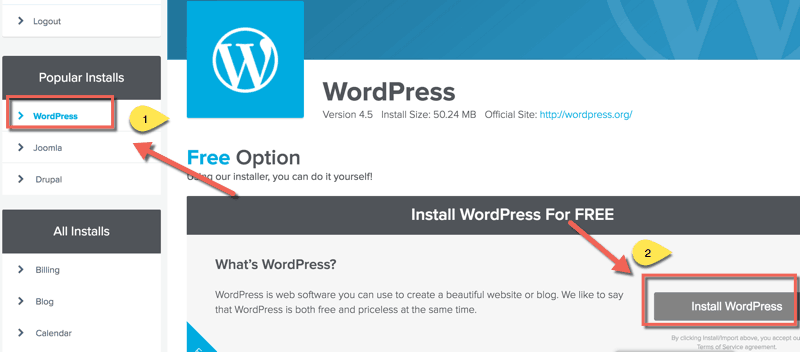 This will take you to the screen where you need to select the domain on which you wish to install WordPress. If you have purchased your domain from HostGator, then you don't need to worry about anything. If your domain is purchased from GoDaddy or any other registrar, then you need to change the domain name-server (DNS) to point to HostGator.
Now that you have your domain pointed to HostGator's hosting (or you purchased your domain from them), you just need to fill out a few details such as:
email address
blog title (you can change it later)
admin user name
password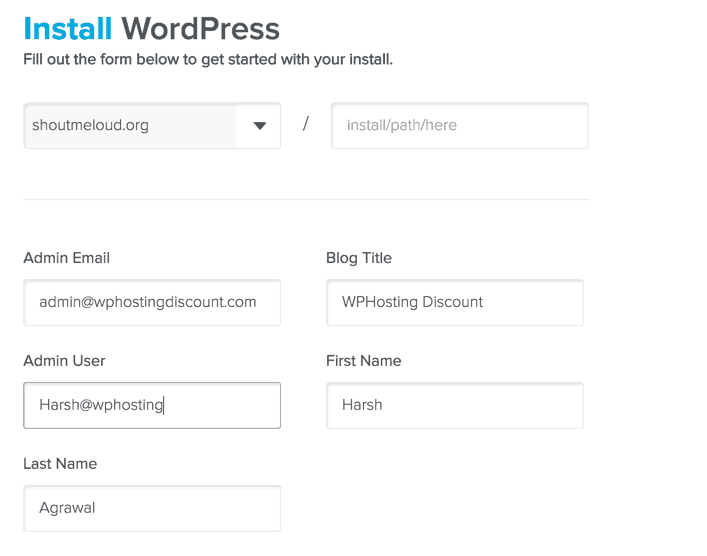 Click on "Install WordPress".
Note: HostGator may give you the option to buy a theme, but you should select "I'm a web designer" and save your money.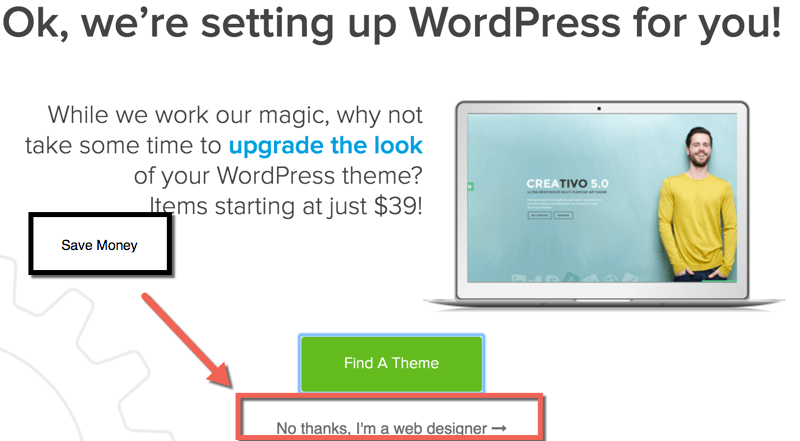 You should buy high quality WordPress themes from stores like ElegantThemes or Genesis.
Remember: HostGator is a web-hosting company & they are good for hosting websites.
HostGator's QuickInstall is now installing WordPress for you. You will get your login details via email & they will also be displayed on the "Congratulations!" screen.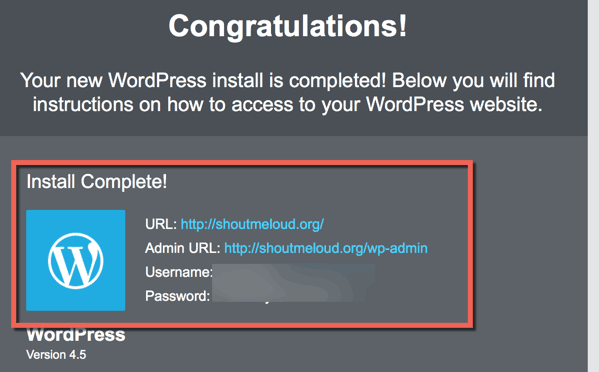 Congratulations(!), you have just configured hosting for your WordPress blog.
Login to your admin panel of WordPress by typing:
http://yourdomain.com/wp-admin (Replace "yourdomain.com" with the actual domain name).
Isn't it easy to install WordPress on HostGator Hosting?
I hope this step by step guide has helped you in figuring out how to Install WordPress on HostGator without any hassle. In case you are stuck in between, do let me know via the comments and I will be happy to help you along.
Do you have any other questions regarding WordPress on HostGator? Ask away in the comments…