Picking the right hosting for your WordPress blog is as important as picking up the right WordPress SEO plugins. There are many Webhosting companies out there which are optimized for WordPress blog. Here at WpHostingDiscount, I keep covering all such WordPress Webhosting companies which are not only good but works the best with WordPress blog. Today, I will be talking about Bluehost Vs hostgator, as both of these hosting companies are one of the top recommended hosting for WordPress and certainly they do create a confusion for newbie users. I will compare both the host and give you my opinion on which you should prefer.
Bluehost or Hostgator for your WordPress Blog: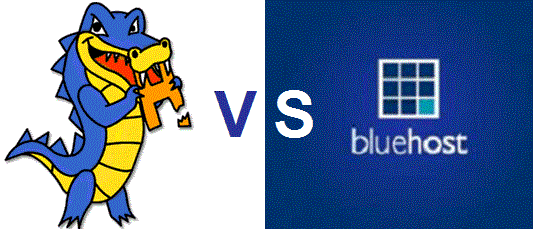 Both of these hosting companies are running under parent company EIG and offer top notch resource for hosting their Websites. Bluehost which is termed as specialised hosting for WordPress, where as Hostgator supports WordPress and many other platform. There are many differences between these two and both have their pros and cons. Lets find out, which is better host for WordPress : Hostgator or Bluehost.
Packages:
The major difference between them comes into packages. As I mentioned above, Bluehost is considered as specialised WordPress shared hosting and offers only one shared hosting package. Unlike Hostgator, which offers 3 different shared hosting package and also offer VPS, dedicated and reseller hosting. Bluehost is also top recommended hosting via official WordPress recommended hosting package. Bluehost also comes with pro hosting package for users, who need more resources for their Websites.
Resources:
Apart from Hostgator hatchling plan, which allows only 1 domain hosting, both of them offer the same resources. Bluehost and hostgator offers unlimited bandwidth, unlimited storage, unlimited FTP account and SSH access. I have used both the hosting and never has issues with any of them. There shared hosting servers are top notch and you can see the CPU usage and other server details from their dashboard. Both comes with standard cPanel.
Customer services:
Hostgator gets an edge here as Hostgator customer support is top notch where as I will rate Bluehost customer support as an average. Hostgator offers various ways to get any issue solved, like Live chat, over the phone and at times via Social networking. Hostgator pays extra effort on customer support and in most of the cases, you will get an instant reply from them regarding your issues. At pick hours, you might have to wait for 30-45 minutes on live chat to talk to tech support guy and this is irritating at time. Though, by the end you will get the resolution to your problem. Bluehost misses out on telephonic support, rest ticketing system and live chat support options are there.
Price:
Major difference between Hostgator Vs bluehost comes into the pricing. Even with the same resources and services, Hostgator is priced higher than Bluehost.Hostgator offers various shared hosting plan and charges according to plan you select. Their minimum package starts at $3.96 but it limit you for hosting only one WordPress blog. The best shared hosting plan is Baby which starts at $7.96/month. Where as Bluehost offer only one plan and it starts from $4.95/month.
Which is better for WordPress Blog hosting:
This is one of the tough clash, as both of them offer similar services and resources for WordPress blog hosting. Though, Bluehost is recommended Host via WordPress official page and this give them an extra edge over Hostgator. Hostgator customer support is better than blue host, which is one point where Bluehost lacks. By the end, I would prefer Bluehost over Hostgator for hosting your WordPress site, since they are not only reasonable with the price, but their server are more optimized for WordPress blogs.
Check out Bluehost | Check out Hostgator
Feel free to share your views on Bluehost Vs. Hostgator. Which one do you prefer and why?