There are many things which you can do to make your site and yourself look professional. When you are working online, your Email address works as your first point of content and having a Professional Email address will help you to make you look more credible. Usually users uses Email address like yourname@gmail.com, yourname@yahoomail.com and so on. These free Email services are always misused and spammed by spammers, so it's better to get a professional Email for your domain, something like admin@domain.com, yourname@domain.com, business@domain.com and so on.
Now, most of the people think using such Email service cost a fortune, but it's not true. Most of Webhosting services offer email services for free, but it's always a good idea to use Google apps standard edition to get such free custom Email addresses. Google apps standard edition let you create 10 free Email address for any domain which you own. Though the setting part could be little tough, but here I'm sharing a complete guide for Bluehost users to configure Google apps right from Bluehost cPanel.
Configure Google apps standard edition from Bluehost cPanel:
Bluehost offers Google apps wizard in cPanel, which makes the process of creating professional Email address via cPanel easy and anyone without technical skills can do it. If not, this tutorial is there to help you. This is a 3 step process and lets do something meaningful with free service offered with your Bluehost account:
Read: Bluehost Discount for WordPress Hosting
Login to your Bluehost cPanel
Go to Domains > Google apps wizard

Click on Google apps Wizard
Now, here we need to do two things
Create a Free Google apps account for your domain
And Verify your domain in Google apps
Go to following link to sign up for free Google apps standard account.  Enter your Domain name in the I already own this domain name field and click on Submit. Now, start filling up the details like your username (admin) or anything like your name, password and contact details.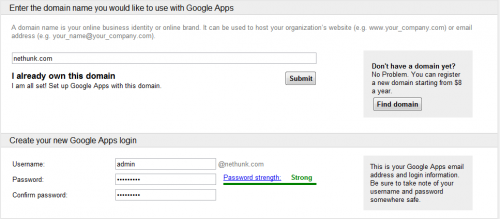 I recommend you to create an admin account first and later on your can add 9 more free professional Email addresses. Google apps standard edition limits you up to 10 free Email account and if you need more, you can always sign up for a pro account . Though, according to me For a normal WordPress blog, 10 Email account is more than enough.
Now, fill out all other details like contact info and make sure you use a proper alternate Email address, as it will be very useful inn recovering password, when you lost your Google apps login details. Once you have filled all the details, , click on I accept and create my account.
If you have done everything right till now, you will be directly landing on Google apps setup page. Click on Express setup and start creating more user accounts and other setup process which you can learn here.
Now, you need to verify your domain ownership from apps dashboard, that you can do from any of the methods like adding HTML meta tag, HTML file upload, Google analytics or recent domain ownership via Domain registrar. You can learn about domain verification from video below.
Once you have verified the domain, simple go back to Bluehost panel under Google apps manager and click on Next step, here you select the domain where you are trying to configure Google apps and you can enable all or specific Google services from here.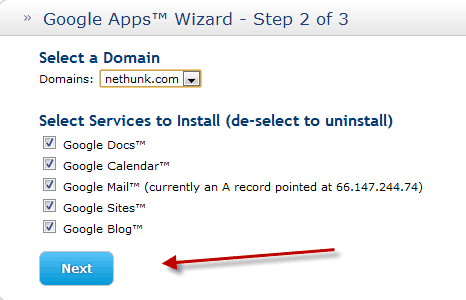 On the next page, Bluehost will show what all CNAME changes they are making to configure Google apps via Bluehost and you need to accept and click on submit at the bottom to complete the whole process. That's it and now your Professional Email address is setup and finished.
You can always access your Google apps dashboard by going to following link: http://google.com/a/domain.com
Replace domain.com with actual domain name. You can always access your professional Email address by going to following link: http://mail.google.com/a/domain.com
You can add more users from Google apps dashboard under Organization and users settings. Pretty much, I always find using Google apps as better option than using Email service provided by hosting companies, as when you switch hosting, you don't have to worry much and all you need to add is CNAME settings in your new hosting provider. With Google apps wizard offered by Bluehost, setting up Google apps is easy and painfree.
I hope you enjoyed this tutorial and if you have any question in setting up domain Email address, do let me know via comments. For more such tutorials, don't forget to subscribe to our Email newsletter.