Shared hosting is the most common and most popular hosting type for small and mid-level websites.
If you are new to the web-hosting industry, here is an extensive guide which talks about shared hosting.
One of the biggest fears of webmasters (who are familiar with SEO) is how hosting their site on shared hosting is going to result in poor search engine ranking. This concept comes with the fact that on shared hosting, your website is hosted along with hundreds of other websites.
You will be sharing the same IP address with other sites and many of these sites could be illegal and/or spam sites such as:
Hacking sites
Sites selling cheap, generic Viagra
Adult dating sites
In this article I will share my viewpoint and expert comments on shared hosting and how it affects search engine ranking.
I will also provide a solution to this potential problem.
(Don't forget to watch the video by Matt Cutts (linked below). He is the web spam head of the Google team. Here he shares his opinion on how shared hosting affects search engine ranking.)
One of the most common myths about shared hosting is that if there are any illegal or spammy websites hosted on the same shared hosting as you, and they're using the same IP address, Google might penalize you because your site is hosted on that same IP address.
This has been talked about quite a lot and there are a lot of different opinions about this topic.
Many other SEO webmasters believe that if your website is hosted on shared hosting, and you are sharing an IP with other websites which may have porn or illegal content, it won't affect your ranking.
Here's the truth:
Search engine ranking of your website depends upon more than 200 factors.
Matt Cutts mentions in his video that shared hosting alone (and a shared IP address) has no impact on search engine ranking.
But, if you ever feel that this may be true, or you want to play it safe, I would suggest you get a dedicated IP address which will save you from the other downsides of sharing the same IP.
Example:
If one of the sites in your shared hosting is spamming other sites with spam methods (like trackbacks), chances are spam blocker scripts or services like Akismet will treat the IP address as spam.

Your website, hosted on that same IP address, could now be considered spam.
One way to ensure you are not a victim of this problem is by checking your site for possible blacklisting. You can use this free service to check if your website is blacklisted anywhere on the internet.
Below is the screenshot result for my website: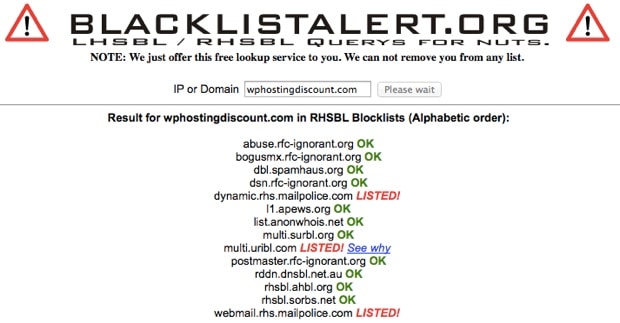 Now check out what the Google spam head has to say about using a shared IP for hosting your website:
To sum it up:
Shared hosting doesn't affect your website ranking, but there are other potential problems like spam or blacklisted IPs.
Shared hosting doesn't affect search engine rank, BUT.....
Click To Tweet
However, this is a one in one thousand case (i.e. very rare), and something I hardly recommend you worry about in the majority of cases. But if you are running a business website, it is advisable to opt for dedicated IP address.
If you are on HostGator hosting, you can opt for the HostGator Business Plan which will give you a dedicated IP. If you are on Bluehost, you can login to your cPanel and add a dedicated IP to your hosting package (which will only cost an additional $3.99/month).
Did you believe that shared hosting affected your search engine ranking? Let me know how this article cleared things up for you by leaving a comment below.