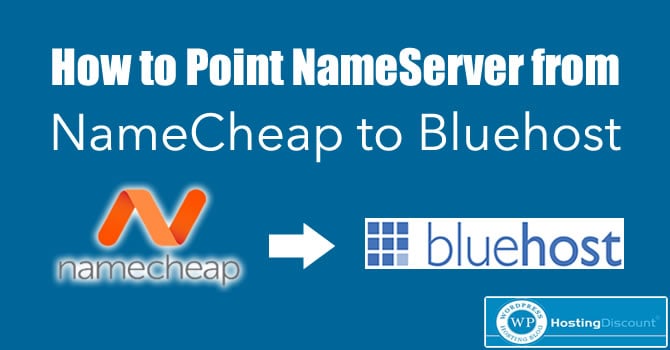 Namecheap and GoDaddy are two popular domain registration service and whereas BlueHost is one of the best hosting company.
Now, Bluehost offers 1 free domain but for additional domain people often use other services like NameCheap and GoDaddy. When you buy a domain from any domain registrar, you can always change the name server to point to Web-hosting company, from where you have bought hosting from.
Every Hosting comes with specific name server, and you need to make sure to update the nameservers accordingly to point to right direction. Here I'm sharing one such tutorial, in which you can point name server of domains purchased from Namecheap to Bluehost hosting.
How to Connect namecheap domain to Bluehost:
Namecheap is one of the reliable domain registration company who keeps offering various promotional offer for cheap domain. Where as, Bluehost offers WordPress hosting for only $3.95/month and you can grab it from here.
Bluehost nameservers are:
Ns1.bluehost.com
Ns2.bluehost.com
All, you need to do here is login to your Namecheap account and update the NS to Bluehost nameservers to host your Website on Bluehost. Later on you can Install WordPress on Bluehost.  Here is step by step tutorial to get your started:
Login to your namecheap account and click on view infront of "Number of domains in your account".
It will list all the domain under your Namecheap account and click on domain name, which you want to host on Bluehost
On the left you will see an option saying "Transfer DNS to webhost" click on that:

This will bring up the name server change tab where you can add custom Name servers. Since, in our case it's Bluehost, we will add ns1.bluehost.com and ns2.bluehost.com to point our domain to Bluehost servers. Similarly if you are using any other Webhosting company, you can get the name server and use that Name servers instead of using BH Nameserver.
So, here is how my screen looks like with updated Nameservers on Name Cheap: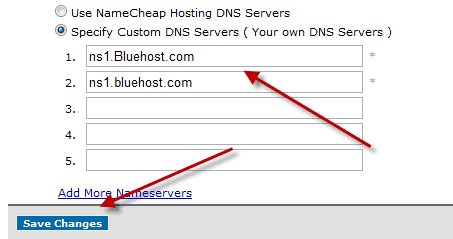 Click on Save changes and you will get the confirmation for Name server update. It takes time for name server replication, so don't worry if your site still opens namecheap default page. You can verify your updates NS using any online services like this. Sometime, the delay goes for long because of the ISP DNS replication time (1-12hrs), so I recommend to change your DNS to Open DNS or Google DNS and check your site.
Here is a quick video tutorial for your convenience:
I hope this tutorial will help you get started with your domain on Namecheap and hosting on BlueHost, if you have any other queries or need tutorials, do let me know on our Facebook page. If you find this webhosting tutorial useful, don't forget to share it on Twitter and Google plus.