A couple of years back, many web hosting companies had limited hosting.
These days most (but not all) web-hosting companies market themselves with unlimited web–hosting.
Now, when we talk about unlimited web-hosting, that usually means unlimited disk-space and unlimited bandwidth. While shopping around for web-hosting, you should look out for these two features, as it will save you a lot of headaches in the near-future.
But there are a few things that you should know about unlimited web-hosting.
Before we move ahead, let me explain what we mean by "unlimited disk-space" and "unlimited bandwidth".
Unlimited disk-space: This will let you host unlimited files on your server and is very important for any dynamic website.

If you are running a blog, or some kind of web-service which requires users to upload files, you will need a hosting company which allows either unlimited disk-space or has a very high limit for the number of files which you can store on your server.

Unlimited bandwidth: Also known as unlimited data-transfer, this will ensure that your website will not be affected when you are getting a very high number of visits.

For example, if any of your website content goes viral, and you are now getting millions of visitors, your website won't crash because of limited bandwitdth.
What's one thing no one will tell you about "Unlimited Web-Hosting"?
Now, think about this- Is there anything that can truly be "unlimited"?
The planet we live on has limited resources. We could say something like the Sun's energy is infinite, but even then, the Sun will die in about 5 billion years.
So while the Sun's energy is not technically "unlimited", none of us will be around long enough to see the death of the Sun.
Most web-hosting companies rely on this same principle. When they claim "unlimited web-hosting" (unlimited disk-space, unlimited bandwidth), they really mean, "not technically 'unlimited', but there's so much of it that you won't be able to use it all".
The number of files you can store on your server and bandwidth which you can consume on your hosting is relatively so high that it feels like it's "unlimited".
The majority of us hosting users never even come close to reaching that high limit as defined by these hosting companies and it feels like we are on an "unlimited" hosting space.
Unlimited hosting has a very little to do with the amount of traffic your website is getting; it has more to do with the resources you are using. This is especially true when you are on shared hosting. Your website, from a server management point of view, is seen with regards to:
Amount of CPU usage
Amount of RAM usage
Amount of stress your website is putting on the entire server
…and so on
This can easily be controlled by optimizing or using caching on your website.
For example, any WordPress blog can take advantage of a cache plugin and CDN to lower down server load substantially.
You should consider adding CloudFlare CDN to block bad bots and thus reducing your server usage.
If you are planning to host a website, it's important to have a hosting plan with unlimited bandwidth + storage, but at the same time you should read the fair usage policy as defined by the hosting company.
Because here's the catch:
Most of these unlimited hosting companies have a strict TOS and set of rules to backup their unlimited plans so that no one "misuses" it.
I will now discuss some of the popular hosting companies' limits for "unlimited" hosting usage.
HostGator Unlimited Policy:

Of all the shared hosting companies, HostGator offers great resources for hosting your website on a shared hosting environment.
Their shared hosting is as good as resources provided by any level 2 or level 3 VPS server. Here are a few things which you should know about HostGator's unlimited hosting packages:
If you spike the server too hard or for too long, you will be suspended for taking resources from fellow shared server users.
iNode limit: HostGator has an iNode limit of 100k/250k.

100k is the "soft limit". That means when you have uploaded 100,000 files on your server, you will still be able to upload more files. But new files will not be included in the backup.
When you reach the limit of 250,000 files, your account will be terminated. Again, these numbers are very high, and you don't have to worry too much about it.

Resource usage limit is 25% or more of system resources for longer than 90 seconds.
You can't use HostGator for any file-sharing or peer-to-peer activities.
Your MySQL queries cannot run longer than 15 seconds. MySQL tables should be indexed appropriately.
HostGator's bandwidth limit is not known to the public, but they reset their bandwidth usage on the first of every month. As they offer "unlimited bandwidth", the bandwidth resource is very high.
Bluehost Unlimited Policy: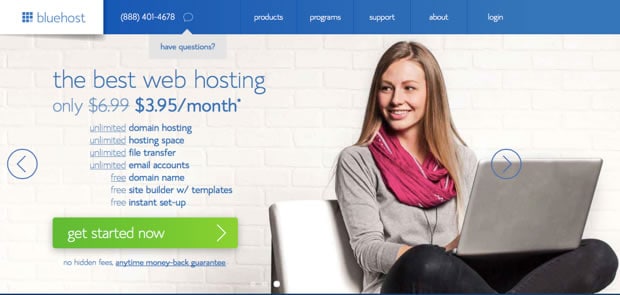 Bluehost is a popular choice for WordPress shared hosting, and here are the limits for Bluehost unlimited plans:
iNodes limit of 50K/200k.

50k is the soft limit
200K is the hard limit

I contacted Bluehost about the bandwidth limit, and they said there is no set limit if you are "playing fair".
You can't throttle CPU usage for more than 5 minutes in any given hour.
Other Hosting "Unlimited" terms you should know:
Unlimited Domain Hosting:
This is one of the things that most newbies miss out on. When you buy an unlimited domain hosting package, you can install multiple websites on a single hosting package. Most of the popular shared hosting companies offer unlimited domain hosting.
This is also popularly known as "unlimited website hosting". When deciding on a web-hosting company, ensure that you opt for the unlimited domain hosting package.
If you are planning to host only one website, in that case, single domain hosting is the appropriate choice. HostGator's "Hatchling" plan offers single domain hosting, and all other plans (Baby and Business plans) offer unlimited domain hosting.
Unlimited Databases:
Most static websites don't need unlimited databases, but all the self-hosted blogging platforms (like WordPress) require a MySQL database. If you are on a hosting plan which allows only 1 or 2 MySQL databases, it will be an issue when you planning to integrate a forum, a membership site, or some other expansion with your website.
So look out for "unlimited databases" or at least more than 1 MySQL database hosting package.
Unlimited FTP users:
This is useful when you are outsourcing work on your website. Instead of giving away your main FTP account, you can create an extra FTP user with custom access permission.
Remember: These unlimited hosting companies are not scamming or cheating you by calling themselves "unlimited". Usually these "unlimited" sizes are in terabytes, and you will not be able to consume all of it even if you try really hard. If you are playing fair and not indulging yourself in any illegal activities or violating their terms of services, there will be no problems.
It's always a good idea to opt for unlimited hosting instead of limited hosting while purchasing a hosting package for your website.
This information is important to know for every shared hosting user. Share this guide on Facebook and Twitter and educate your network about the truth of "unlimited" hosting companies.
If you have any questions or comments, please post them below in the comments section.