When it comes to buying a domain name, the biggest name out there is definitely GoDaddy. And while GoDaddy is popular for a good reason, it's far from your only quality choice when it comes to buying domain names.
In this post, I'll give you five great GoDaddy alternatives, all of which have something that sets them apart. I've included both budget and premium registrars, so that no matter what your budget is, you can find an option that's right for you.
What To Look For In A Quality Domain Registrar
When you're choosing your domain registrar, there are a few key metrics to consider:
Pricing – Don't just look at pricing for your first year. You should also check how much it costs to renew and transfer your domain.
Reliability – You want a registrar who is ICANN accredited and has a good reputation.
Privacy – You should look for a registrar who takes your privacy seriously and offers services that let you make your Whois information private.
Security – You want to keep your domains safe, so look for a registrar with good account security. Two-factor authentication is great for keeping your account safe.
Extra Services – if you need any extra services like email accounts or CMS integration, make sure your registrar offers those.
Best Alternatives to Go Daddy for Buying Domain Names:
| Alternatives | .com (First Time) | .com (Renewal) | Buy Now |
| --- | --- | --- | --- |
| Namecheap | $9.84 | $10.69 | |
| Google Domains | $12 | $12 | |
| 1&1 | $0.99 | $14.99 | |
| Domain.com | $9.99 | $9.99 | |
| Gandi.net | $15 | $15 | |
1. Namecheap – Affordable and Great Interface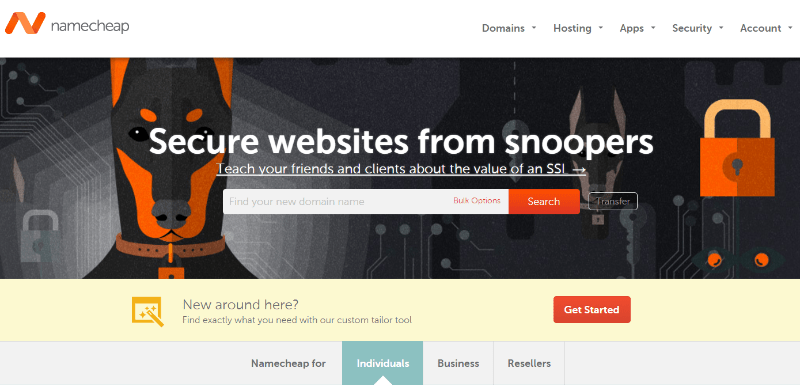 If GoDaddy is the biggest name in the domain registrar world, Namecheap isn't far behind them. They're so close to each other that I wrote a whole post comparing Namecheap and GoDaddy.
Namecheap technically sells their .com domains for $10.69 per year, but they almost always have a coupon floating around that takes that price down to $9.84.
With your purchase, you get one free year of Whois privacy. After that, privacy only costs $2.88 per year. Namecheap also offers two-factor authentication to keep your domains even more secure.
And I couldn't mention Namecheap without bringing up their great interface. When compared with GoDaddy, Namecheap's interface is the clear winner. Another important thing to know, Namecheap is one of the few websites that accepts payment via Bitcoins.

2. Google Domains – Backed by the Power of Google

You might have heard of the little company behind this service! Google Domains is a relatively new offering from the search engine giant. Though it's still technically in beta, Google Domains has been public since January 2015.
At $12 per .com domain, Google sells domains for a little bit more than GoDaddy and Namecheap, but they back that up with free privacy, which would cost you $7.99 per year at GoDaddy. So, if you were planning to purchase privacy anyway, you'll still come out ahead with Google Domains.
You also get to use Google's own DNS, which means great reliability. Back in August, GoDaddy's DNS went down temporarily after a hacking attack, so this reliability is actually a big selling point.
You can also easily set up your own email address with Google G-Suite, or quickly get set up with hosted content management systems like Shopify and Blogger.

3. 1&1 – Amazing Deal for First Time Buyers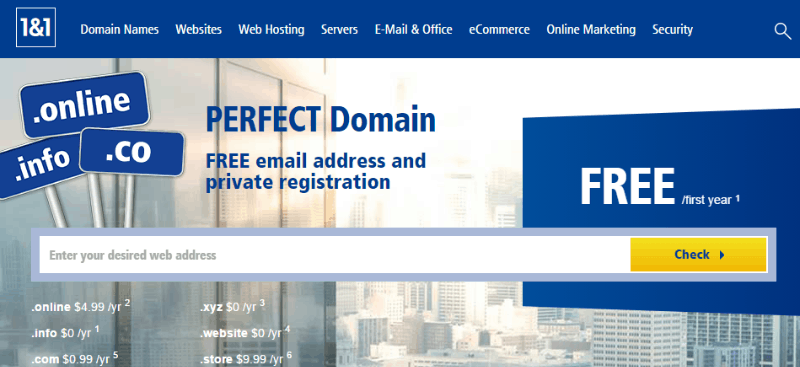 1&1 offers one of the cheapest prices out there for .com domains. If you've never purchased from 1&1 before, you can get your first year of registration for only $0.99.
Of course, you'll need to remember that this price won't last forever; after your first year, your domain name will renew at the normal price of $14.99 per year. But if you're looking to get started with a domain at the absolute cheapest price, you're not going to beat $0.99.
In addition to that attractive deal for first-time buyers, 1&1 also offers free privacy, domain locking, and one free email account with 2 GB of storage.

4. Domain.com – Everyday Low Prices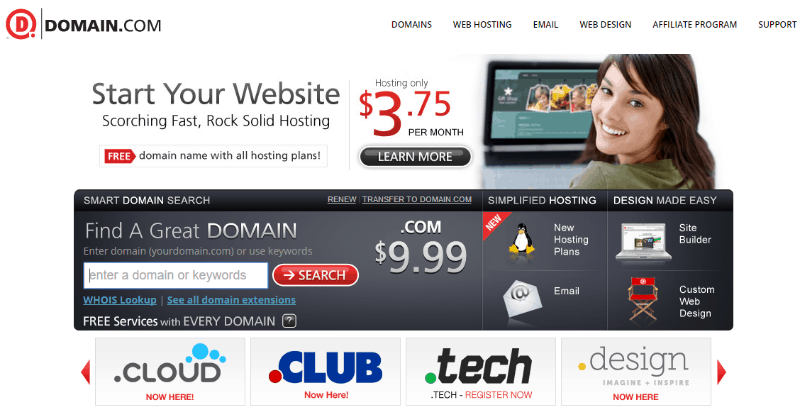 Domain.com offers great pricing for all of their domain names. Their everyday price for .com domains is just $9.99 per year (without the need to go searching for coupons).
And that's the same price your domain will renew at. Some domain registrars suck you in with low prices that only apply to your first year and then charge you more for renewals. But Domain.com keeps it consistent.
Domain.com comes with all the standard registrar features like URL/email forwarding, DNS management, and transfer locking to protect your domain name.
It's a great option if you're looking for an affordable registrar.

5. Gandi – Premium Registrar With Great Service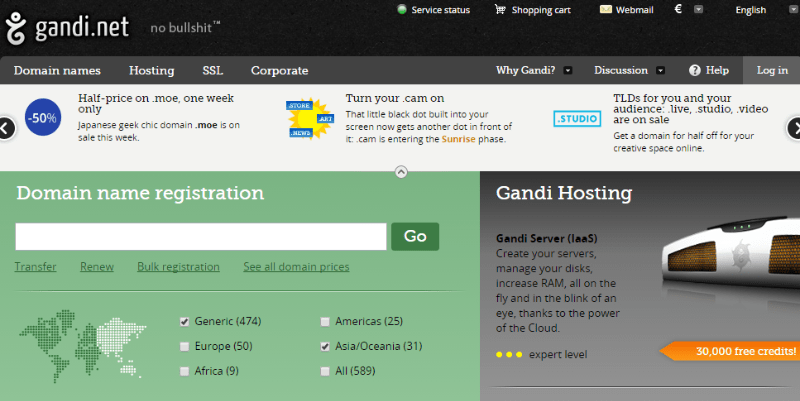 If you're mostly concerned with finding the cheapest domain registrar, Gandi isn't for you. Whereas most other registrars on this list sell .com domain names for around $10 per year, Gandi charges more like $15.
But if you want amazing privacy, a massive selection of TLDs, and an official "No Bullshit" attitude (it's their slogan!), Gandi is a great option.
Gandi's core values are honesty, transparency, and privacy. So, if you're willing to pay a little more for your domains, Gandi makes up for it in service and transparency.

The Best GoDaddy Alternatives
You won't go wrong picking one of these great GoDaddy alternatives. They're all ICANN accredited with great value for the money. And every single one of them provides a much better option than purchasing your domain from your web host.
If you have any questions or personal experiences with these registrars, I'd love it if you shared them in the comments!